By Charlotte Dow. This post on where to take winter photos in New York City contains affiliate links to trusted partners!
The beauty captured in NYC winter photography is a reason to visit in itself.
Because let's be real:
While New York City is far from a wonderland in the winter months — hello slush puddles, frigid temps, and traffic nightmares — the city streets can feel pretty magical after a snowfall.
Both professional and amateur photographers alike have been capturing post-snow NYC for years, to impressive results.
If you're visiting New York in winter and want to flex your photography muscles (or just get the perfect Christmas Card photo), check out this list featuring some of the best places to take pictures in New York when it snows.
Grab your camera and keep reading!
Pro tip:
Dressing appropriately for the season will make your outdoor New York photoshoot way more enjoyable.
Check out the Jessie on a Journey guide on what to wear in NYC in winter to stay warm while looking chic.
Want beautiful photos taken of you in scenic New York winter spots? Book a Private Photo Journey, a walking tour that includes photos of your group to keep. Or get a styled, custom shoot that tells your unique story through an NYC Influencer Shoot or Professional New York City Shoot. Email [email protected] with inquiries.
NYC Winter Photography In Manhattan
1. Central Park photography in winter is incredible
One of the main reasons why New York is so famous is its beautiful Central Park, which is also the most filmed location in the world.
And with 840 acres of open space right in the heart of Manhattan, Central Park is one of the best spots for snow photos in NYC.
Snap a selfie by the pond for an extra magical shot — complete with background ducks — or head to one of the park's many snow-covered stone bridges for an iconic Manhattan winter scene.
For a bird's-eye view, climb up Belvedere Castle for a truly dreamy winter scene that also offers a healthy dose of romance in NYC if you're visiting with your partner — though it's spectacular for solo travelers, friends, and families, as well!
Pro tip:
Hiking in Central Park is a great activity for photographers wanting to immerse themselves in nature! Plus, it's fun and safe whether you're visiting in a group or are looking for things to do in NYC by yourself.
For the best shots, practice how to be comfortable in front of a camera before your shoot.
2. Get gorgeous cobblestone shots on Stone Street (Financial District)
A remnant of Manhattan's colonial beginnings, this short cobblestone street in the Financial District brings old world charm to a city that's constantly evolving and is one of the best places to take pictures in NYC.
The street is a hot spot for outdoor dining and drinking in the winter months, though its string lights, brownstone buildings and lack of cars make it the perfect place for a winter photoshoot.
While you're there, head to one of the many pubs and restaurants that line the street to warm up with a hot nice drink.
One recommendation is Ulysses Bar, a chill tavern and live music spot serving draft beer and tasty cocktails. Their boozy Old Fashioned will warm you right up!
3. Snap nostalgic photos on MacDougal Street (Greenwich Village)
Take a trip back to the 1960s with a winter photoshoot on MacDougal Street in Greenwich Village.
Home to bars and clubs that once hosted legendary artists like Bob Dylan and Lenny Bruce, the block is now a popular hangout for music junkies, comedy fans, and NYU students alike.
The vintage signs that line the street make it a great spot for photoshoots, particularly in the winter.
Head there early in the morning or late in the evening to beat the crowds for the best shot.
4. Explore nature in New York at Madison Square Park (Flatiron)
This tree-filled and easily-accessible Midtown oasis is perfect for snowy winter photoshoots.
Snap pictures from the field at the center of the park for great shots of the iconic Flatiron Building and nearby Met Life Tower, now home to the New York Edition Hotel.
For a perfect Christmas photo to share with your friends, family, and followers, pose in front of the park's impressive Christmas tree, traditionally located on the north end of the park.
Prefer to be the one in the photos?
Book a private New York City photo tour or a professional NYC photoshoot!
View this post on Instagram
5. Grab your camera & walk down Stuyvesant Street (East Village)
The brownstone buildings that line the intersection of Stuyvesant Street and 10th Street are always a great spot for classic New York photos, and even more so during the winter months.
Snap a few snowy photos or pose with the classic corner street lamp Singin' In the Rain-style, then warm up with some Ukranian goodies at nearby Veselka.
Or, pop into one of the most unique coffee shops in NYC, Coffee Project NY, for a deconstructed latte. Yum!
6. See Washington Square Park in a blanket of white (Greenwich Village)
This historic park is a hub Village for residents and visitors, filled with street performers, students, skateboarders, and fans of pigeons in the warmer months.
The crowds tend to clear out a bit in the winter, though, making it a great spot for pictures after a snowfall. Make sure to snap a photo or two of the park's Christmas tree, conveniently located right under the iconic Washington Square Arch for a classic NYC Christmas photo.
7. Mix icicles & holiday shops in Bryant Park (Midtown)
While a large skating rink usually occupies Bryant Park's large open field in the winter months, the park is definitely worth a stop on your snowy photography tour of Manhattan.
Since the park's iconic fountain is kept on all year, it often freezes over when the thermometer dips below a certain point.
This creates an incredible natural chandelier look that you'll definitely want to capture on camera.
8. Photograph a Manhattan hidden gem on Staple Street (Tribeca)
This little backstreet downtown is one of Manhattan's hidden gems, complete with red brick buildings and one of the city's few sky bridges.
Head here in the winter months — before the street is paved — for unique snowy shots.
9. Take in the beauty of the West Village
Exploring the West Village and wandering its signature side streets, brownstones, and classic signs offer plenty of opportunities for great photoshoots, especially after a snowfall.
The contrast of red brick buildings and bright white snow makes for dynamic images that harken back to old New York.
When it gets chilly, warm up at one of NYC's most Instagrammable cafes, the Old Rose at the Jane Hotel.
You can review your photos while sipping their delicious matcha latte.
---
Want beautiful photos taken of you in scenic New York winter spots? Book a Private Photo Journey, a walking tour that includes photos of your group to keep. Or get a styled, custom shoot that tells your unique story through an NYC Influencer Shoot or Professional New York City Shoot. Email [email protected] with inquiries.
---
Best Places To Take Pictures When It Snows In Brooklyn
10. Walk the Brooklyn Bridge covered in snow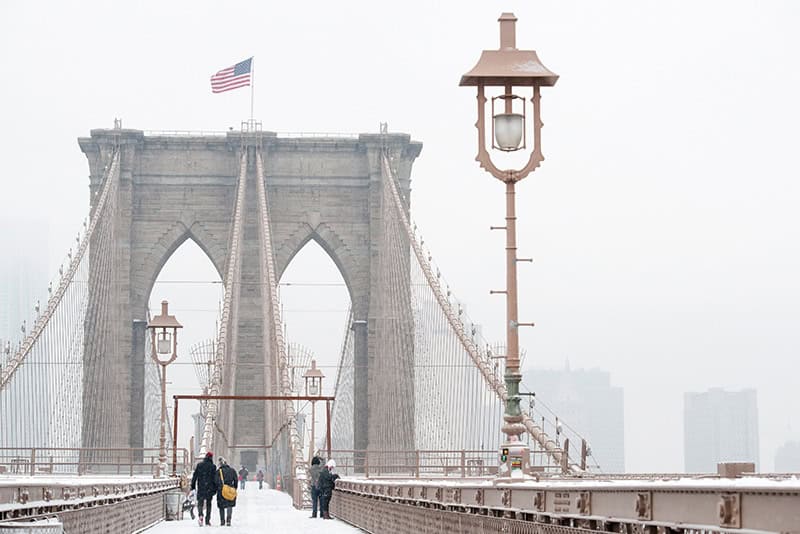 The Brooklyn Bridge — a popular spot on a private NYC photo tour and one of the top Brooklyn attractions — is a classic of New York City photography for a reason:
This legendary landmark is beautiful in every season.
Winter is a particularly great time to get photos on the bridge as many of the usual crowds retreat inside.
Looking for a more moody vibe?
Head to the bridge on a particularly grey day when the skyline looks like it's disappeared.
11. Wander Brooklyn's most Instagrammed neighborhood in DUMBO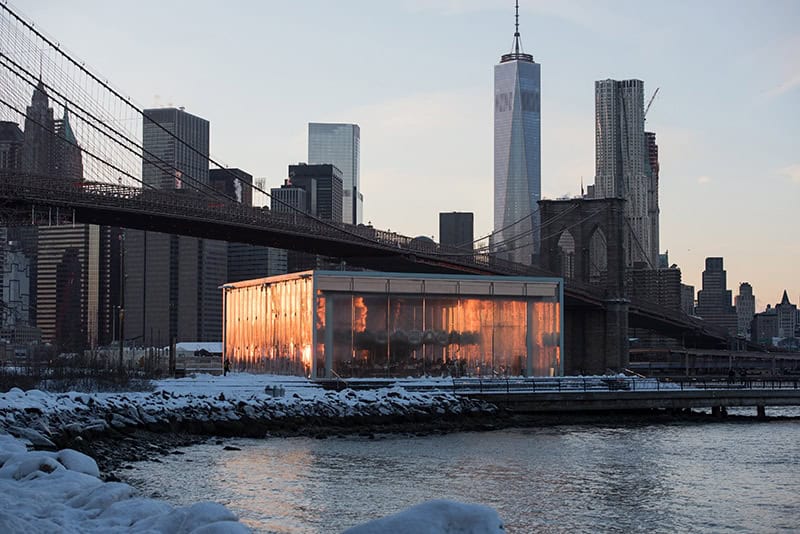 This trendy neighborhood — aptly named for its position under the Manhattan Bridge — is photogenic year-round, but winter may be the best time to beat the crowds for a selfie on Washington Street, the most photographed spots in the borough.
Or walk along the river at Brooklyn Bridge Park for a snowy shot of the waterfront and Manhattan skyline — one of the best free views in NYC you can get and a top Brooklyn Bridge photo spot.
By the way, this is a top location pick for an NYC Influencer Photo Shoot!
12. Find & photograph nature in Prospect Park
If you're looking for fun winter date ideas in NYC, this large and lovely park is a great option.
It's also great for pictures.
Like Central Park in Manhattan, Prospect Park has plenty of open spaces and natural elements that make for fantastic snowy portraits.
For a whimsical family photo, head to one of the park's fields to build a snowman or make snow angels.
Or head to Prospect Park Lake right after a storm for a serene, snowy scene.
13. Take pictures of winter blooms at the Brooklyn Botanic Garden (Prospect Park)
Tucked inside Prospect Park you'll find the Brooklyn Botanic Garden, featuring 52 acres of gardens and conservatories open year-round.
While it may seem counterintuitive to visit a botanical garden in the winter, the meticulously planned out grounds — and the Japanese Garden in particular — are breathtaking after a snowfall.
Head there on a weekday from December to February for free admission.
14. Mix snow & Christmas lights in Dyker Heights
Looking for special things to do in New York?
Dyker Heights is home to the most spectacular holiday decoration display in NYC.
Many locals in the neighborhood outfit their homes with thousands of lights, classic holiday characters, and interactive displays that make for great photos — as truly there is nothing else like it in the city.
To really immerse yourself in the holiday cheer, book a Dyker Heights Christmas Lights tour.
Best Winter Photoshoot Locations In Queens
15. Pose with real Christmas Trees at the Queens Botanical Garden
This urban oasis in Flushing features an abundance of flora that blooms all year long, making it a perfect retreat from the Concrete Jungle.
QBG's many cedar trees — conveniently in season during the winter months — are perfect for a Christmas photoshoot in NYC.
Admission is free from November to March and the Garden offers plenty of holiday events to kick off the season.
Where To Take Winter Photos In The Bronx
16. Enjoy an off-season beach at Pelham Bay Park
For winter scenes that feel a world away from the hustle and bustle of the city, head north to Pelham Bay Park — New York City's largest public park.
The park's 2,772 acres of well-preserved nature makes for an incredible backdrop for a more outdoorsy winter photoshoot.
Head to the serene Orchard Beach for even more dynamic photos after a snowfall.
Top Spots For Snow Photos In Staten Island
17. Explore NYC history at LaTourette Park
Once the farm property of David and Ann LaTourette, this expansive park and golf course in the heart of Staten Island offers plenty of wooded areas for snow photoshoots.
Head to the golf course's clubhouse — built in the 19th century — for winter photos that will have you feeling like you just stepped into a Dickens novel.
While the weather outside may seem frightful, New York is full of delightful photo opportunities in the winter.
Want beautiful photos taken of you in scenic New York winter spots? Book a Private Photo Journey, a walking tour that includes photos of your group to keep. Or get a styled, custom shoot that tells your unique story through an NYC Influencer Shoot or Professional New York City Shoot. Email [email protected] with inquiries.
Hotels In New York City
Looking to stay overnight in NYC?
There are so many incredible hotels, like NoMo SoHo, the Williamsburg Hotel, and The Ludlow.
Click here for a full list of New York City hotels!
Prefer self-contained stays?
Click here to check out unique local rentals!
You can also use this map to search for local stays:
New York City Travel Insurance
When visiting New York City — or anywhere else in the world — it's wise to get travel insurance.
One of the best travel medical insurance for travelers is SafetyWing as they've got a large network and offer both short-term and long-term coverage — including coverage if you're traveling for months as well as limited coverage in your home country).
Additionally, SafetyWing is budget-friendly and offers $250,000 worth of coverage with just one low overall deductible of $250.
Click here to price out travel insurance for your trip in just a few clicks.
What are your favorite places for NYC winter photography?
Related Posts
The following two tabs change content below.
Latest posts by Jessica Festa (see all)