Looking to book a professional photoshoot in NYC?
Are you wanting to capture beautiful moments in epic New York photoshoot locations that you can treasure forever?
Do you wish to work one-on-one with a photographer to bring your vision to life through stunning high-resolution images?
You are SO in the right place!
We've been photographing New York locals as well as travelers from around the world since 2013. Whether you're looking to celebrate a milestone, capture memories with loved ones, immortalize a special experience, up-level your Instagram feed or dating profile, or star in your very own themed shoot, we can help.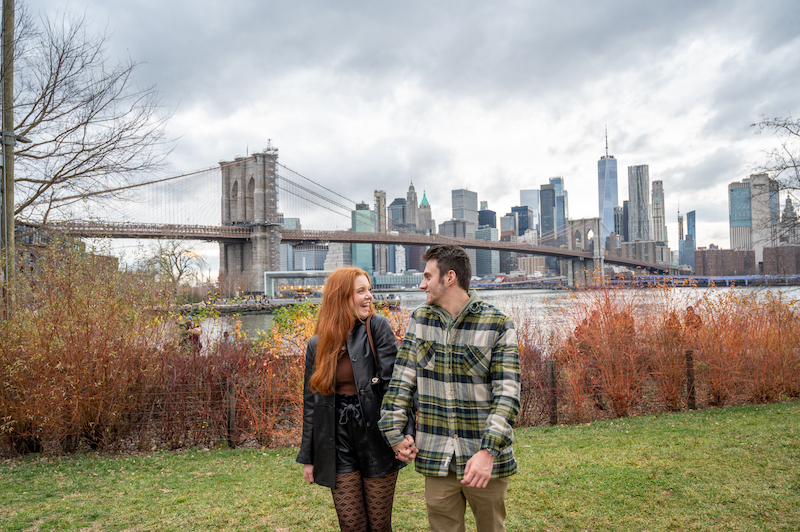 What To Expect During A Professional Photoshoot In NYC
All of our private NYC photoshoots are led by NYC Photo Journeys founder, Jessie Festa.
Her love for photography began with the birth of her solo female travel blog, Jessie on a Journey, in 2011. As readers began asking her to show them around her home of New York, she decided to get licensed as a guide and start leading photo tours — which eventually led to also working with guests on these private NYC photoshoots.
As a professional NYC photographer, licensed guide, and local New Yorker, Jessie also knows the best photo shoot locations in NYC, including both popular and less-frequented places.
Not only that, but she knows how to take your NYC photoshoot ideas and transform them into a shoot that tells a story.
Here is how a Professional NYC Photoshoot works:
Once you book, your New York photoshoot begins with a pre-shoot planning call to go over your vision for the session. You'll also be able to send over sample images and mood boards.
From there, you'll work with Jessie to plan out the locations and looks for the shoot.
On the day of the shoot, expect a relaxed vibe that feels like exploring New York with a friend (who also happens to be a whiz with a camera).
After the shoot, you'll receive a digital downloadable folder of beautiful high-resolution images.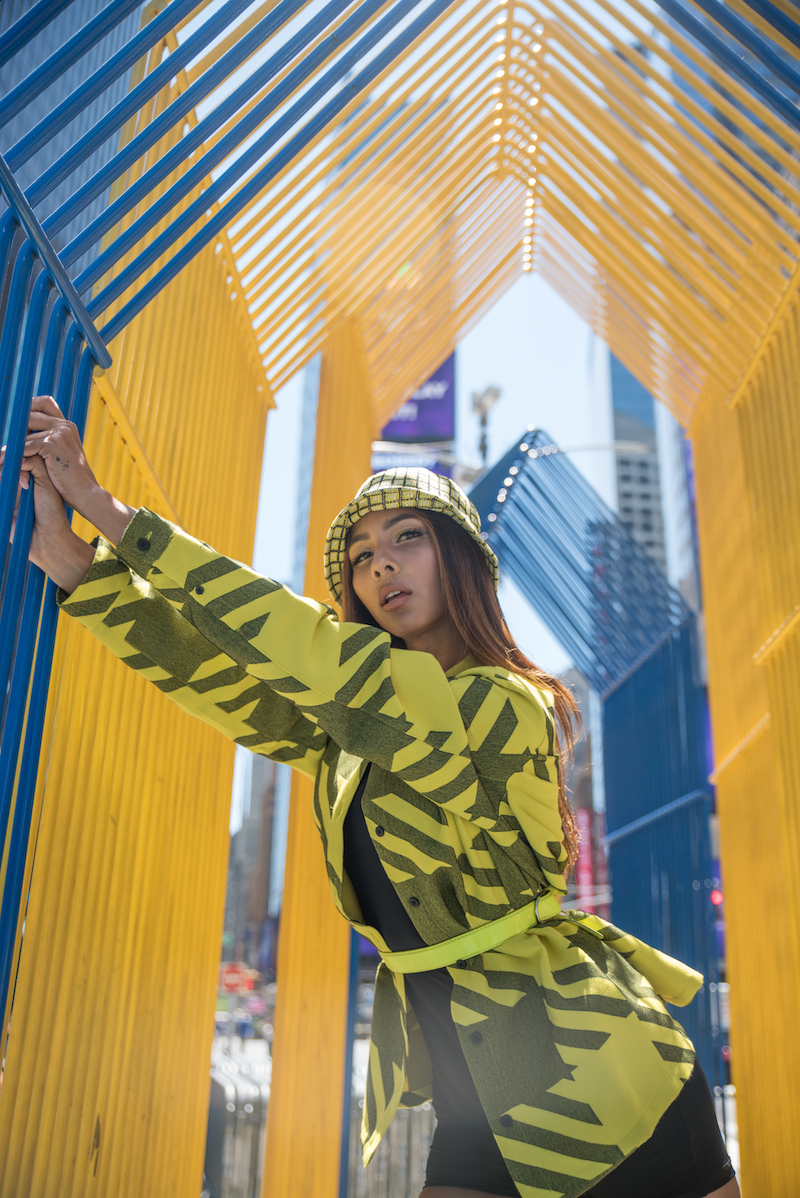 NYC Photo Shoot Packages:
When you book a Professional Photoshoot In NYC, you'll have two package options. Both include a pre-shoot planning call or email chat (your choice!) to go over your goals for the shoot.
Prices are for groups of up to 3 people, with additional people costing a flat fee of $50 per shoot.
Package #1: $475 per shoot
A 2-hour private NYC photo shoot with individually edited photos included. You can show Jessie sample images to give her a feel of the style you'd like the photos edited in. Otherwise, they will be edited for light, color, and composition to look natural and clean.
Package #2: $290 per shoot 
A 2-hour private NYC photo shoot with unedited (but still stunning!) photos. In fact, this is the package that gets you the maximum amount of photos — typically hundreds!
You'll supply the SD card — or purchase one from us for $15 at checkout — and we'll give you the SD card at the end of the shoot to take home. Jessie typically shoots in RAW for the best editing capabilities, which requires an editing program like Lightroom or Photoshop; however, if you'd prefer JPG images just let her know.
*MULTI-SHOOT DISCOUNTS AVAILABLE*:
Pay for multiple sessions upfront and receive a 10% discount
Note that to receive the discount all shoots must be paid for upfront, though the photo shoot calendar slots can be booked whenever you'd like. To book multiple shoots, please call us at (929) 266-9248 so we can process your payment by phone and apply the discount. To book a one session shoot, you can call or use the booking link here:
Professional Photoshoot In NYC
Why Book A Professional NYC Photo Shoot
Here are just a few reasons to hire a New York photographer (Jessie!) and enjoy a professional shoot:
It's 100% private. No need to worry about sharing time with other guests. The focus will be entirely on capturing images of you and your group for the duration of the shoot.
It's 100% custom. This experience is your vision brought to life, with photoshoot locations chosen based on your interests. Not only that, but because shoots are based on time, we can visit multiple New York photoshoot locations in one session.
You get unlimited images. While many photographers in NYC limit the amount of photos you get in a package, we don't. We cull the images and delete duplicates as well as any with excess blur or closed eyes, and then edit and deliver the best images — with many shoots ending with 120+ images!
Stress-free. Nervous about posing? Do you feel less than confident in front of a camera? Don't worry; Jessie will help you feel relaxed and look great in your photos.
Your photographer is also a licensed guide. Questions about NYC history? Need recommendations for unique things to do? Jessie can help with that, too.
It's fun! While the main goal with these NYC photoshoots is to capture incredible images, our mission is also to help you relax, feel confident, and have fun during your shoot so that you truly enjoy the experience.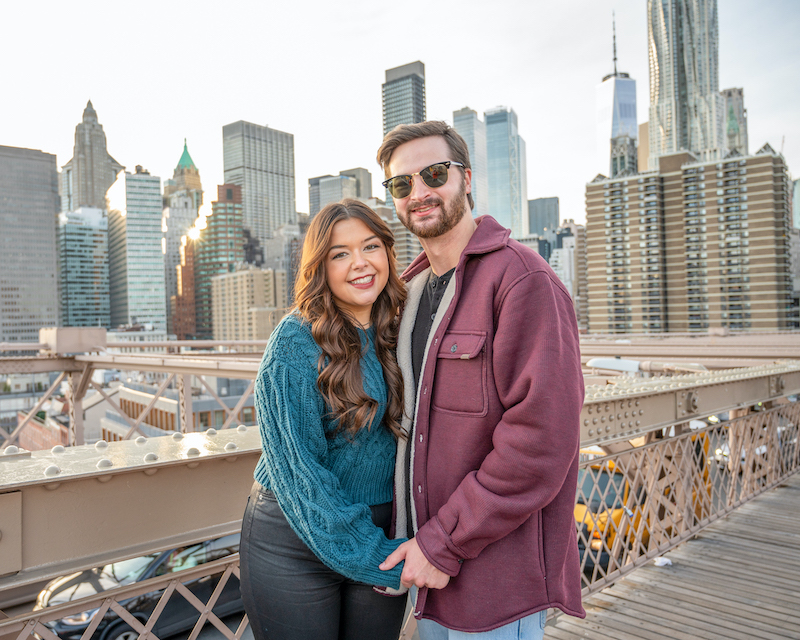 Popular Photography Locations In NYC
Jessie is a professional NYC photographer. The following suggestions are based on her extensive knowledge of New York and her experience photographing guests around the city since 2013.
Times Square / Central Park / Upper East Side / Brooklyn Bridge
SoHo / Brooklyn Bridge / DUMBO
World Trade Center / Brooklyn Bridge / DUMBO
Greenwich Village / SoHo / World Trade Center
Interested in other places for your NYC photoshoot? Not a problem, as we can customize the route at no additional charge.
Professional Photoshoot In NYC
Testimonials
See what our happy guests are saying about our Professional New York City Photoshoots:
Jessie is a great photographer and has such positive energy – she's just a joy to work with! I highly recommend her for an uplifting shoot where you want to feel relaxed and comfortable, knowing you're going to get the shots you want and need.

Alexis F.
Cannot recommend Jessie enough!!! I used to live in NYC but came away from my time with no photos. I wanted to have these made for sentimental purposes. I am not someone that is typically in front of the camera and Jessie did a great job making me feel comfortable. It felt like walking around the city with a friend!

Eva M.
Click here to read more reviews from happy guests on TripAdvisor.
Then head here to book:
Professional Photoshoot In NYC
Frequently Asked Questions
Q: What if I want to add more time to my shoot?
Not a problem! When booking your shoot, there is an option under "add ons" to add an additional hour of shooting time for $145 (unedited shoots) or $237.50 (edited shoots).
There is also the possibility to pay cash the day of the shoot, though note if the additional hour is not pre-booked it will be subject to availability. As in, Jessie is happy to do it as long as she isn't pre-booked for a shoot that would overlap. ?
Q: Will you help me pose?
Yes, absolutely! Don't worry if you're camera shy or aren't sure how to pose. Jessie will be there to nurture and guide you throughout the shoot.
Q: Do I get to choose which photos you edit?
With the Edited Package, we will cull the photos taken and choose the best ones to send you. If you'd prefer to see all of the photos taken, you'll need to book the Unedited Package, which gives you access to the entire SD card.
Q: Can I see examples of your work?
Of course! The best places to see examples are on Instagram here and on TripAdvisor here. Here is also a quick gallery with a few examples:
Q: Are the suggested routes fast-paced?
We'll have plenty of time to get gorgeous shots of you in each location. That being said, if you'd like extra time in any one location on the route, such as to visit a cafe for shots, we can certainly accommodate. Just note that that means you'll need to spend less time in another location or purchase an additional hour of shooting time.
Q: How many photos are included in my shoot?
While there isn't a guaranteed amount as it depends on the distance between locations, amount of outfit changes, and shoot pace, most two-hour New York City photo shoots end with about 120 shots — or more, depending on the shoot! Unedited Package photoshoots end up with even more since you get every single photo taken.
Q: When will I receive my photos and in what format?
You'll typically receive your photos within 7 business days of the shoot ending. They'll be sent via a downloadable digital folder. Note: If you need the photos sooner you'll have the option to purchase a rush-order upsell at checkout.
Q: Do you ever post client photos on social media?
We often share photos from our shoots in our blog and social content, mainly on Instagram and Facebook, to give other potential clients a sense of our work. If you'd prefer not to have any images from your shoot shared, please just let us know after you book so we can mark your album as one not to share photos from.
Q: What is the difference between the Professional NYC Photoshoot and the NYC Influencer Shoot?
Nothing! Both are private photography sessions that include a custom shoot, pre-shoot planning call, outfit changes, and an unlimited number of edited photos.
The reason we created this separate product is we found that people who wanted a custom shoot but who weren't influencers were getting confused about what to book. So, we created this product to help make things clearer.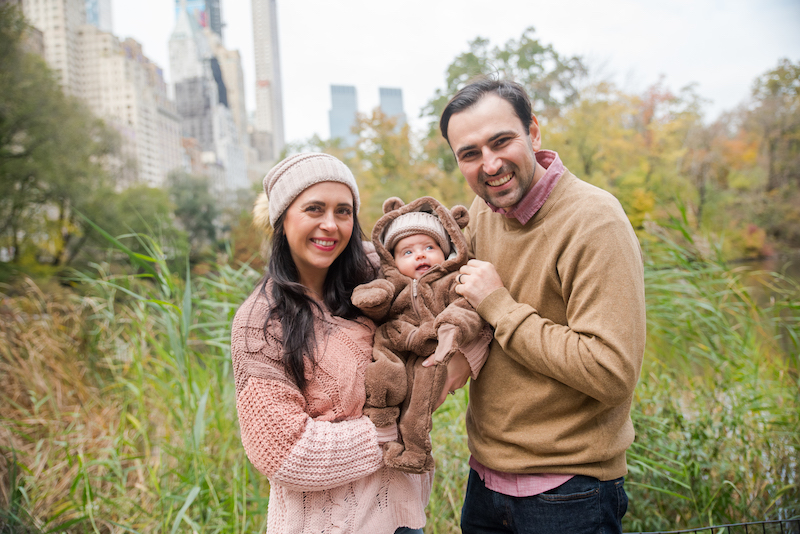 Q: What is the difference between the Professional NYC Photoshoot and your Private Photo Journeys, which also include photos?
Our NYC Photo Journeys are for tourists looking to explore NYC and leave with fun photo memories to keep. Guests of this experience aren't necessarily looking for a custom shoot, and there are no outfit changes between locations nor do we take the time to try out a wide variety of poses. Instead, they're looking to preserve memories and print photos for their wall frames and photo albums. Moreover, photos are culled and are batch edited (vs individually edited).
With the Professional NYC Photoshoot, the focus is solely on capturing beautiful lifestyle photos. There isn't a tour included, but instead, the goal is snapping loads of high-resolution photos that bring your vision to life. Because of this, you leave with more photos (you get the entire camera roll!) and more looks. Photos are also individually edited.
Before the shoot, we can also discuss your vision for the photos to come up with the best locations, poses, and outfits. This allows the photos from the shoot to tell your unique story.
Professional Photoshoot In NYC
Q: When is the best time to do the shoot?
Before noon means less crowds and usually better lighting, though you'll get great shots no matter what time you book for.
Note that while we can shoot after 4pm during the summer, it gets dark too early in other seasons.
Q: Who owns the copyright of the photos? Can I sell these photos or use them for commercial purposes?
The photographer retains the copyright of the photos, so you are not able to sell these photos for profit. Also note that photos cannot be used for commerical purposes outside of promoting yourself on your blog and social media channels. Please get in touch to discuss if you have a different usage request.
Q: I'd like to get commercial license photos for my hotel, restaurant, large corporation, etc. Should I book this?
This experience is for people looking for a customized photo shoot to help them preserve memories.
For corporate photo shoots, check out our Commercial Photography in NYC page or email [email protected] to request a quote.
Q: What is your cancellation policy?
Our cancellation policy is as follows:
Cancellations made at least 30 days in advance receive a 90% refund
Cancellations made between 73 hours and 29 days out from the photoshoot departure receive a 50% refund
Cancellations made within 72 hours of the photoshoot departure are non-refundable
Please keep in mind that photographers block their schedules when a booking is made, turning away other bookings to be available for yours. In order to effectively run our business while ensuring photographers are always compensated, we do not provide 100% refunds.
Also keep in mind that all of our experiences are private, meaning that if you cancel we don't have other people making up that cost.
If you need to reschedule please email us at [email protected] and we can try to accommodate as best as we can. As long as your scheduled guide can accommodate your request, we're happy to reschedule at no charge.
This being said, we do offer a 100% refund if a shoot is canceled due to inclement weather.
Please see our Terms & Conditions for full information (section 3).
Q: I still have questions. How can I contact you?
Our team is most responsive via email, so please send your message to [email protected]. You can expect a response within 24 hours, usually much sooner.
Ready to book a professional photo shoot in NYC and leave with stunning high resolution images?
Professional Photoshoot In NYC