Are you an Instagram influencer or NYC fashion blogger?
Looking to update your social media feed with gorgeous lifestyle photos shot by professional photographers in NYC?
Want a custom photoshoot that shares your story and preserves treasured memories?
Then you're SO in the right place.
As an Instagram influencer herself under her personal @jessieonajourney brand, NYC Photo Journeys founder Jessie Festa knows what goes into successful Instagram influencer marketing.
In terms of influencer photography in NYC, she not only knows the best photo shoot locations, but also how to create a captivating lifestyle story within an image.
During the shoot, Jessie is happy to share her own proven strategies for landing paid Instagram and blogger campaigns, too.
NYC Influencer Photo Shoot Packages
When you book an NYC Influencer Photo Shoot, you'll have two package options. Both also include a pre-shoot call or email chat (your choice!) to go over your goals for the shoot.
Prices are for groups of up to 3 people, with additional people costing a flat fee of $50 per shoot.
Package #1: $475 per shoot
A 2-hour private NYC photo shoot with individually edited photos included. You can show Jessie sample images to give her a feel of the style you'd like the photos edited in. Otherwise, they will be edited to look natural and clean.
If it's of interest, Jessie can also help you shoot clips for any TikToks, Instagram Reels, Amazon Videos, and other video content using your phone (though you will need to edit these yourself).
Package #2: $290 per shoot 
A 2-hour private NYC photo shoot with unedited (but still stunning!) photos. In fact, this is the package that gets you the maximum amount of photos — typically hundreds!
You'll supply the SD card — or purchase one from us for $15 at checkout — and we'll give you the SD card at the end of the shoot to take home. Jessie typically shoots in RAW for the best editing capabilities, which requires an editing program like Lightroom or Photoshop; however, if you'd prefer JPG images just let her know.
If it's of interest, Jessie can also help you shoot clips for any TikToks, Instagram Reels, Amazon Videos, and other video content using your phone (though you will need to edit these yourself).
*MULTI-SHOOT DISCOUNTS AVAILABLE*:
Pay for multiple sessions upfront and receive a 10% discount
Note that to receive the discount all shoots must be paid for upfront, though the photo shoot calendar slots can be booked whenever you'd like.
To book multiple shoots, please call us at (929) 266-9248 so we can process your payment by phone and apply the discount.
To book a one session shoot, you can call or use the booking link here:
NYC Influencer Photo Shoots [Private]
When checking out, you'll be given a few different location options, though these can easily be customized at no extra charge.
Popular Photo Shoot Locations In NYC
Jessie has been photographing influencers (and non-influencers) around NYC for over eight years. Moreover, she's a native New Yorker and local, so these suggestions are based on extensive knowledge of the destination.
That being said, if you have something else you'd like, we can customize the locations at no extra charge.
Times Square / Central Park / Upper East Side / Brooklyn Bridge
SoHo / Brooklyn Bridge / DUMBO
World Trade Center / Brooklyn Bridge / DUMBO
Greenwich Village / SoHo / World Trade Center
NYC Influencer Photo Shoots [Private]
NYC Influencer Shoot Testimonials
See what our happy guests are saying about our New York City Influencer Shoots:
Jessie provided excellent photos to help me boost my social media presence. I would highly recommend Jessie for all your photography needs. She has good knowledge of local NYC neighborhoods and will provide value-add guidance on landmarks that will serve as a good background.

Perry M.
Thank you, Jessie for an incredibly memorable and fun day. Jessie was so easy to get along with and friendly. I'm usually a little nervous getting my photo taken, but her immediate warmth and welcoming completely put me at ease. I was truly astounded by her ability to get incredible shots at the MANY locations that we went to. Beyond that, her pacing of the day (in the midst of getting photos and our wardrobe changes) was exceptional. I can't wait to book her again!

Stephanie A.
Click here to read more reviews from happy guests on TripAdvisor.
Then head here to book:
NYC Influencer Photo Shoots [Private]
Frequently Asked Questions
Q: What if I want to add more time to my shoot?
Not a problem! When booking your shoot, there is an option under "add ons" to add an additional hour of shooting time for $145 (unedited shoots) or $237.50 (edited shoots).
There is also the possibility to pay cash the day of the shoot, though note if the additional hour is not pre-booked it will be subject to availability. As in, Jessie is happy to do it as long as she isn't pre-booked for a shoot that would overlap. 🙂
Q: What if I'm not an influencer?
That is totally fine! This experience is really for anyone who wants a custom NYC photoshoot with a professional photographer, whether that is to capture a themed solo shoot, beautiful family shoot, celebrate a milestone, or something else.
Q: Are the suggested routes fast-paced?
We'll have plenty of time to get gorgeous shots of you in each location. That being said, if you'd like extra time in any one location on the route, such as to visit a cafe for shots, we can certainly accommodate. Just note that that means you'll need to spend less time in another location or purchase an additional hour of shooting time.
Q: Can I see examples of your work?
Of course! The best places to see examples are on Instagram here and on TripAdvisor here.
Q: How many photos are included in my shoot?
While there isn't a guaranteed amount as it depends on the distance between locations, amount of outfit changes, and shoot pace, most two-hour NYC influencer photo shoots end with about 120 shots — or more, depending on the shoot! Unedited Package photoshoots end up with even more since you get every single photo taken.
Q: Do I get to choose which photos you edit?
With the Edited Package, we will cull the photos taken and choose the best ones to send you. If you'd prefer to see all of the photos taken, you'll need to book the Unedited Package, which gives you access to the entire SD card.
Q: When will I receive my photos and in what format?
You'll typically receive your photos within 7 business days of the shoot ending. They'll be sent via a downloadable digital folder. Note: If you need the photos sooner you'll have the option to purchase a rush-order upsell at checkout.
Q: Will you help me pose?
Yes, absolutely! Don't worry if you're camera shy or aren't sure how to pose. Jessie will be there to nurture and guide you throughout the shoot.
Q: Do you ever post client potos on social media?
We often share photos from our shoots in our blog and social content, mainly on Instagram and Facebook, to give other potential clients a sense of our work. If you'd prefer not to have any images from your shoot shared, please just let us know after you book so we can mark your album as one not to share photos from.
Q: What is the difference between the NYC Influencer Photo Shoots and your Private Photo Journeys, which also include photos?
Our NYC Photo Journeys are for tourists and locals looking to explore NYC and leave with fun photo memories to keep. Guests of this experience aren't necessarily looking to grow an online presence, and there are no outfit changes between locations nor do we take the time to try out a wide variety of poses. Instead, they're looking to preserve memories and print photos for their wall frames and photo albums. Moreover, photos are culled and are batch edited (vs individually edited).
With the NYC Influencer Photo Shoots, the focus is solely on capturing beautiful lifestyle photos. There isn't a tour included, but instead, the goal is snapping loads of high-resolution photos that will help increase your Instagram following and engagement. Because of this, you leave with more photos (you get the entire camera roll!) and more looks. Photos are also individually edited.
Before the shoot, we can also discuss your vision for the photos to come up with the best locations, poses, and outfits. This allows the photos from the shoot to tell your unique story.
Additionally, as Jessie is an Instagram influencer herself with 30,000+ organic followers and counting, you'll be able to talk shop about growing on the platform and landing paid brand campaigns.
Q: When is the best time to do the shoot?
Before noon means less crowds and usually better lighting, though you'll get great shots no matter what time you book for.
Note that while we can shoot after 4pm during the summer, it gets dark too early in other seasons.
Q: Who owns the copyright of the photos? Can I sell these photos or use them for commercial purposes?
The photographer retains the copyright of the photos, so you are not able to sell these photos for profit. Also note that photos cannot be used for commerical purposes outside of promoting yourself on your blog and social media channels. Please get in touch to discuss if you have a different usage request.
Q: I'd like to get commercial license photos for my hotel, restaurant, large corporation, etc. Should I book an Influencer Shoot?
Influencer Shoots are for people looking for photography for their personal brand (like bloggers, influencers, YouTubers, authors, etc) as well as for individuals looking for a customized photo shoot to help them preserve their memories.
For corporate photo shoots, check out our Commercial Photography in NYC page or email [email protected] to request a quote.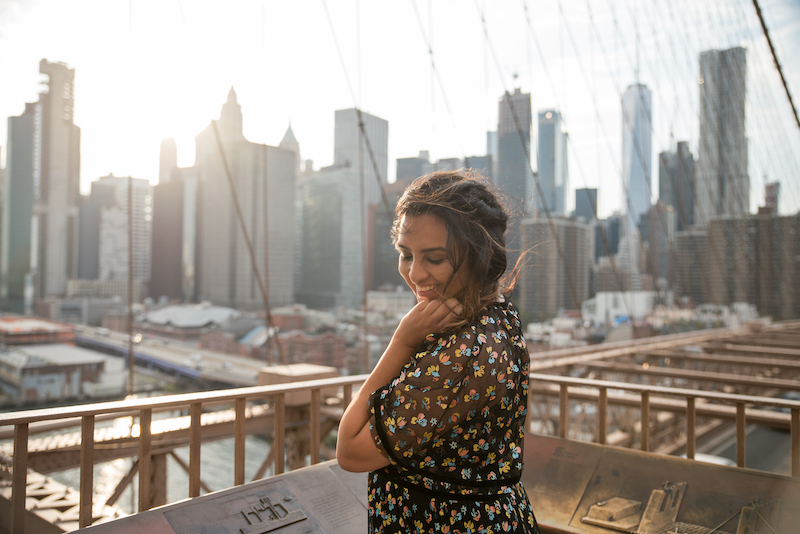 Q: What is your cancellation policy?
Our cancellation policy is as follows:
Cancellations made at least 30 days in advance receive a 90% refund
Cancellations made between 73 hours and 29 days out from the photoshoot departure receive a 50% refund
Cancellations made within 72 hours of the photoshoot departure are non-refundable
Please keep in mind that photographers block their schedules when a booking is made, turning away other bookings to be available for yours. In order to effectively run our business while ensuring photographers are always compensated, we do not provide 100% refunds.
Also keep in mind that all of our experiences are private, meaning that if you cancel we don't have other people making up that cost.
If you need to reschedule please email us at [email protected] and we can try to accommodate as best as we can. As long as your scheduled guide can accommodate your request, we're happy to reschedule at no charge.
This being said, we do offer a 100% refund if a photoshoot is canceled due to inclement weather.
Please see our Terms & Conditions for full information (section 3).
Q: I still have questions. How can I contact you?
Our team is most responsive via email, so please send your message to [email protected]. You can expect a response within 24 hours, usually much sooner.
Ready to upgrade your Instagram feed with shots from gorgeous locations around NYC?
NYC Influencer Photo Shoots [Private]