Are you trying to plan the NYC trip of a lifetime?
Do you need a custom New York City itinerary complete with information on how to get around and local etiquette as well as budget-friendly tips?
Is there an interest or hobby you have that you want to enjoy in New York, but aren't sure where to go?
NYC Photo Journeys has experience creating epic NYC itineraries — and can help you plan one, too!
And, yes, that includes sharing the best photography spots. That is our specialty, after all!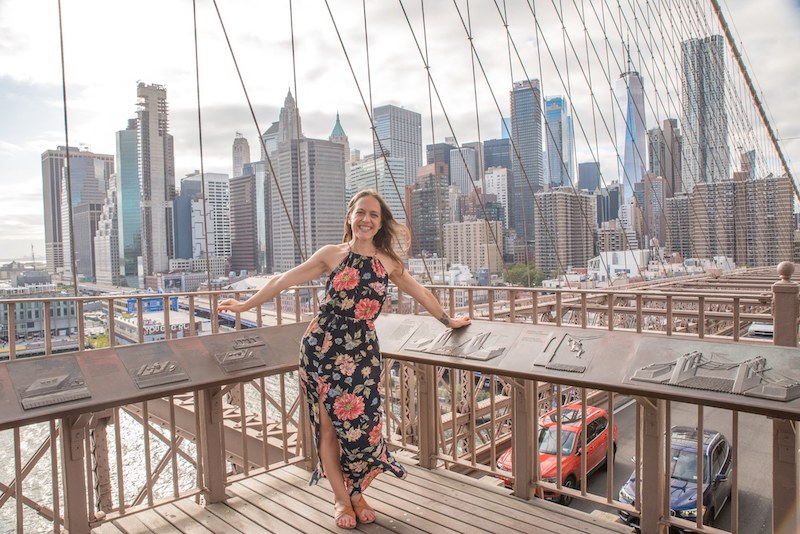 Hi, I'm Jessie – Your NY Trip Planner!
I'm the founder of NYC Photo Journeys, which means I'm also a licensed New York City sightseeing guide.
Moreover, I'm a native New Yorker.
My grandparents actually came from Italy through Ellis Island, a part of my family history that makes me feel immensely connected to this city. I absolutely love New York and sharing the best parts of it with others.
As a full-time travel blogger and tour operator, I regularly craft NYC itineraries for people based on their interests. Whether you want help getting off the beaten path, are eager to discover local attractions and delicious food, or just want to know what New York is truly like here on the ground, I'm here to help.
How Custom NYC Trip Planning Works
During checkout, you'll choose a date and time for our NYC trip planning call. You'll also have the option to input what you'd like to cover during the call — though don't worry if you're not sure yet. You can always email your questions to [email protected] later on.
It's preferable that you send over your questions or bullet points of what you'd like to cover at least 72 hours before the call, though if you'd rather just show up and chat organically we can do that, too.
That being said, sending the questions in beforehand allows me to do any necessary research beforehand, especially if you're working with a specific budget.
My goal:
That after our Zoom call, you feel excited, clear, and confident about your NYC trip! Not only that, but you have an itinerary full of epic experiences ready to go.
We're not just creating a trip, we're creating an experience. Your dream New York City experience.
NYC Travel Planning (Virtual)
Why You Should Use Us For Planning NYC Itineraries
It's private and personalized
It's customized to fit your personality, travel style, and budget
We can cover any topic related to NYC travel planning that you'd like
You'll save time on travel research
You'll get expert advice and tips from a New Yorker and licensed tour guide who can speak to both popular tourist attractions and more local experiences
Unlike with travel agents, we won't be trying to sell you a package from one of our clients
It's affordable
NYC Travel Planning Pricing & Packages
There are two package options for NYC trip planning services:
Private Zoom Call: $60:
Get your most pressing NYC travel questions answered by a real New Yorker and licensed tour guide!
Skip the endless Google searches — which often provide you with inaccurate or outdated advice — and get your travel information straight from the mouth of someone who lives, works, and plays in NYC.
Note that this price is per group. This means that if you have other friends you'll be traveling to New York City with that would also like to hop on the call they can and you won't be charged extra.
Bonus:
You'll get a recording of the call to keep, so no need to take notes!
Inclusions Snapshot:
45-minute private Zoom call to ask any NYC travel planning questions you'd like
A recording of the call to keep
Day-By-Day Itinerary Creation: $60/day:
Example: If you want a 2-day NYC itinerary created, it would be $120.
Prefer a PDF itinerary mapped out just for you? With this package, you'll fill out a questionnaire to help me get to know you and what you're looking for. This questionnaire will be automatically emailed to you after you book.
Within 5 business days of submitting the questionnaire, you'll receive a beautiful PDF itinerary — complete with photos, helpful links, and transit instructions — based on your interests.
Bonus:
You'll also get a Google Map version of your itinerary. Save it to your phone and get ready to explore — no research required!
Inclusions Snapshot:
In-depth PDF itinerary created for the amount of days you book
Google Map of your itinerary
A round of follow up questions (including to ask for alternative suggestions if there is something on the itinerary you don't like)
Note:
Our booking software requires you to choose a date and time, even if you opt for the Day-By-Day Itinerary Creation (which doesn't actually require an appointment). Simply choose any date and time so that you can continue with your booking. 🙂
Refund & Cancellation Policy:
Note that there are no refunds for this product — though if you are unhappy for any reason please let me know and I'll do my best to make it right!
If you need to reschedule a Zoom call, please let me know as soon as possible. You'll get one reschedule with no penalty.
If you need to reschedule again, the Zoom call will be cancelled but you'll be able to send over up 5 questions to have them answered via email. These should be sent within 7 days of the cancelled Zoom call date.
As you can see from our many positive reviews on TripAdvisor, Jessie and the NYC Photo Journeys team put a lot of time and effort into the experiences they offer. Whether you're booking a photo tour, influencer shoot, wedding photography, or custom NYC travel planning, we aim to wildly excede your expectations.
NYC Travel Planning (Virtual)
Questions about our NYC trip planning service? Email Jessie at [email protected].
We can't wait to help you plan an unforgettable itinerary for NYC!