By Charlotte Dow. NOTE: THIS POST CONTAINS LINKS TO OUR TOURS AS WELL AS AFFILIATE LINKS TO PARTNER TOURS.
In need of some summer date ideas in NYC as the weather warms up?
Cue the Grease soundtrack — the temperatures are rising and it's almost time for some summer lovin'!
If you live in New York City, your ideal summer date may just be sitting in front of the air conditioner together, trying to cool off in the city's frequent heatwaves.
But the city has so much to offer once summer comes around, from outdoor dance parties to rooftop wineries to sightseeing by kayak.
If you're looking for romance in NYC this summer, you've come to the right place.
We've compiled a list of our favorite summer date ideas in the five boroughs, with activities for every kind of couple. Whether you just matched on Tinder, met last week on a tour, or you've been happily married for years, you're sure to find the perfect summer date on this list.
Best Summer Date Ideas In NYC (Citywide)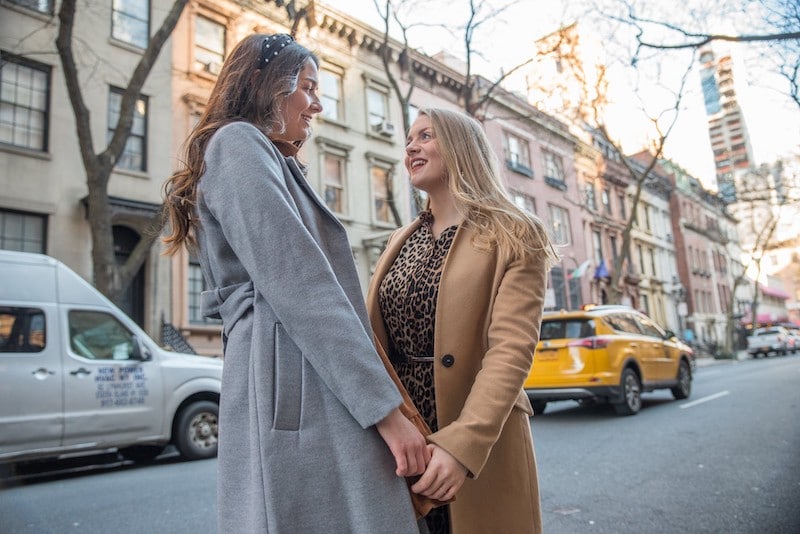 1. Book a private NYC photo tour
Do you ever wish you could explore the city with your partner, and leave with beautiful photographs to keep?
Well, that's exactly what you'll get on a private NYC Photo Journey. Part tour, part photo shoot, you can visit popular New York attractions like Times Square, Central Park, and the Brooklyn Bridge, or even add in unique stops like the Bushwick street art gallery, SoHo's Cast Iron District, and the DUMBO waterfront in Brooklyn.
The best part?
Within 72 hours of tour, you'll receive a digital downloadable folder of print-worthy images from the experience.
Feeling camera shy?
Here is some advice on how to practice being yourself on camera.
2. Book A Bushwick Beer, Bites & Street Art #Instawalk
Prefer a photography workshop?
On this Bushwick photography walk and food tour, you'll learn the fascinating history of this Brooklyn neighborhood, with stories coming to life with the help of local food and drink.
Another main highlight:
A photography workshop and photoshoot in the Bushwick Collective. Along with learning how to use your camera, your guide will take a few professional shots of you and your partner and will send them to you within three days of the tour.
Looking for romance this #SummerInNYC? Check out @nycphototour's list of unique summer date ideas in #NewYorkCity!
Best Summer Dates Ideas In Manhattan
3. See your favorite movies under the stars
Every Monday night from June through August, Bryant Park hosts free outdoor movie nights on their central lawn.
Bring a blanket and cuddle up with your cutie while you take in everything from classics to new releases.
By the way:
Bryant Park is a popular spot on our private NYC Photo Journeys.
4. Take an evening stroll and do some stargazing in Chelsea
No USA travel guide would be complete without mentioning NYC, and no NYC travel guide would be complete without mentioning the elevated High Line Park.
Every Tuesday night from April through October, the Amateur Astronomers Association sets up high-powered telescopes along the High Line, providing some of the best views of the night sky in the city.
These evening events are also totally free, making them some of the best cheap dates in NYC. Plus, you can take in an incredible New York City night view.
5. Go on an artistic adventure out of the city (without leaving the city)
Take a quick ferry ride to Governors Island, which should be on every New York City itinerary. Here you'll find rows of old houses and barracks that are now home to some of the best up-and-coming artists in the area.
If you'd like to learn the fascinating history of the island, a Secrets Of Governors Island Tour is a must. The two-hour excursion is led by an author who has written the only guidebook to the island!
Once you're finished touring the island's artistic and historic offerings, head to Island Oyster for a waterside cocktail and, of course, a few oysters.
Pro tip:
Governors Island is also a great spot to enjoy some NYC hiking.
Need help capturing the best of NYC — with you in the photos? Book one of our Private Photo Journeys, a walking tour that includes photos of your group to keep. Or step up your Instagram game with an NYC Influencer Shoot. Email [email protected]nycphotojourneys.com with inquiries.
6. Enjoy some
al fresco
fare and a few margaritas in the East Village
Love NYC Instagram spots that also serve up delicious eats?
With great patio seating and a menu of delicious Mexican faves, Rosie's is one of the best places to enjoy a summer evening with your date.
Split an order of tacos and a pitcher of margaritas while you enjoy the warm weather — and each other's company, of course!
7. Split a bottle of wine while you learn some new culinary skills 
Looking for non-touristy things to do in NYC?
Taste Buds Kitchen in NoMad offers adult BYOB cooking classes throughout the week on everything from handmade pasta to sushi. 
The relaxed, fun-forward atmosphere at Taste Buds, and the BYOB element, make it one of the best couples cooking classes in NYC.
8. Share a kayak and see the city by sea (or river)
Manhattan Kayak offers kayak and stand-up paddleboard classes, rentals, and tours throughout the year, giving residents and travelers alike a unique way to experience NYC.
Their guided tours of the skyline and Hudson Yards make our list of fun couples things to do in NYC.
9. Take your
Hamilton
fandom to the next level with a tour of historic Lower Manhattan
Context Travel's Hamilton in New York Tour takes you to many of the Founding Fathers' old stomping grounds such as Trinity Church, Fraunces Tavern, and Bowling Green.
Each tour is led by an expert in Revolutionary and Colonial American history, providing you both with plenty of knowledge to win your next trivia night as well as fascinating stories.
Tours, shows, dance parties, dinners, and more! Check out our list of 29 unique #RomanticNYC summer date ideas. #SeeYourCity
10. Learn more about New York City's unique architecture as you cruise down the Hudson & East Rivers
Classic Harbor Line and the American Institute of Architects (AIA) offer a number of tours around the city led by AIA certified guides, giving you a fresh perspective on the city.
Their evening cruise, "Architecture and the Lights of Gotham," is one of our top date night ideas for married couples looking to learn something new about NYC.
Prefer music?
Opt for a Manhattan Evening Jazz Cruise!
You and your partner will board a 1920's yacht for a two-hour sail that includes drinks, classic jazz, and views of iconic New York sites like the Brooklyn Bridge, the Statue of Liberty, Ellis Island, and the Lower Manhattan skyline.
11. Sip craft cocktails under the lights of the Empire State Building at one of Midtown's best-kept secrets
Located at the top of the Refinery Hotel, Refinery Rooftop offers incredible views of the Midtown skyline in an industrial-chic setting that's perfect for date night.
Furnished with a retractable glass roof, the bar is open year-round, but summer is the best time to lounge on the bar's patio and enjoy the view — of your date, of course!
Best Summer Date Ideas In Brooklyn
12. Take your date out to the (minor league) ball game on Coney Island
The Brooklyn Cyclones, a minor league baseball team affiliated with the New York Mets, are a favorite among sports fans and casual observers alike for their fun games and low ticket prices.
Get your tickets for a night with post-game fireworks to experience one of the best displays in the city.
13. Explore the many zones of a Bushwick party destination, or just take in a fantastic evening view
Housed in a converted warehouse, Elsewhere hosts concerts, dance parties, small gatherings, art shows and more throughout its many zones.
The Rooftop offers great skyline views, sunset DJ sessions and an awesome spot to get some fresh air with your musically-inclined date.
14. Dance the day away at Brooklyn's coolest outdoor venue
Nowadays features some of the best DJs in town spinning tracks in the venue's backyard that features a dancefloor, food trucks and hammocks for snuggling under the stars.
Head to Nowadays on Sunday afternoons for Mister Sunday, a strictly no-phones-allowed dance party that will have you grooving into the night.
View this post on Instagram
15. Grab a cocktail at one of the hottest rooftop bars in the five boroughs
Located atop the William Vale Hotel in Williamsburg, Westlight's riverside location gives it a perfect view of the Manhattan skyline. And with plenty of patio space, you'll be sure to score a seat.
Head there for dinner to experience one of the best romantic restaurants in Brooklyn.
The above IGTV video cover photo showcases the stunning view of the Manhattan skyline from Westlight. This is truly one of the most Instagrammable restaurants in NYC!
Need help capturing the best of NYC — with you in the photos? Book one of our Private Photo Journeys, a walking tour that includes photos of your group to keep. Or step up your Instagram game with an NYC Influencer Shoot. Email [email protected]nycphotojourneys.com with inquiries.
16. Have a beach day at one of the most iconic shores in America.
Looking for unique things to do in NYC?
Indulge in nostalgia at Coney Island as you take a ride on the iconic Cyclone roller coaster, enjoy a hot dog at Nathan's Famous, or just catch some rays on the beach.
Looking for weird date ideas in NYC?
Head to Sideshows by the Seashore, just a few feet from the boardwalk, for a show you'll really have to see to believe.
17. Catch some riverside rays at one of Brooklyn's newest parks
Built on the land that once housed the Domino Sugar Factory, Domino Park is home to plenty of fun features, such as beach volleyball courts, an elevated walkway and plenty of fountains for cooling down.
Challenge your date to a round of bocce — winner buys tacos and drinks at nearby Tacocina, one of the best inexpensive romantic restaurants in NYC.
Getting married?
Domino Park is one of our favorite spots to take our City Hall Wedding Photography guests after they tie the knot as it's one of the best places to take photos in NYC.
Hold hands in a park with a #Manhattan skyline view or at a 70s roller-disco in #Brooklyn? You can have both, at least if you check out @nycphototour's list of 29 unique #RomanticNYC summer date ideas!
18. Hold hands while you make your way through a 70s-style roller disco in Prospect Park
Every Saturday night, the Lefrak Center at Lakeside in Prospect Park becomes Lola Star's Dreamland Roller Disco, where partygoers in themed garb —think lots of glitter — come to get their skate on.
Pro tip:
The more the merrier!
Dreamland is best experienced with a group, making it one of the best double date spots in NYC.
19. Tour a one-of-a-kind rooftop vineyard in Downtown Brooklyn
Rooftop Reds is the world's first commercially-viable urban rooftop vineyard and has been making their own delicious wines since 2016.
The vineyard hosts tours on Wednesdays and Sundays that include wine and cheese pairings and plenty of time to enjoy their great rooftop space and city views, making it the perfect alternative to date night at your local wine bar.
Best Summer Date Ideas In Queens
20. Spend the day at "The People's Beach"
With its restored Art Deco bathhouse, boardwalk of unique vendors, and relaxed environment, Jacob Riis Park is one of the most popular summer destinations in the Rockaways.
Bring a towel and work on your tans together, then split some ice cream at Ample Hills' boardwalk outpost.
May we recommend the Cherry Lime Riickey?
21. Chow down on some vegan eats in Astoria
With a menu of both vegan- and carnivore-friendly eats, The Bonnie has become one of Astoria's top new restaurants.
Get cozy in one of their rustic-chic booths while you sip on one of their signature cocktails like "Favor For A Friend."
22. Party down at one of New York's top art museums
MoMA PS1, the Long Island City outpost of the iconic Midtown museum, hosts its Warm Up outdoor music series every weekend throughout the summer.
Dance with your date to some of the best under-represented musicians around, then enjoy some of the innovative works on display at the museum.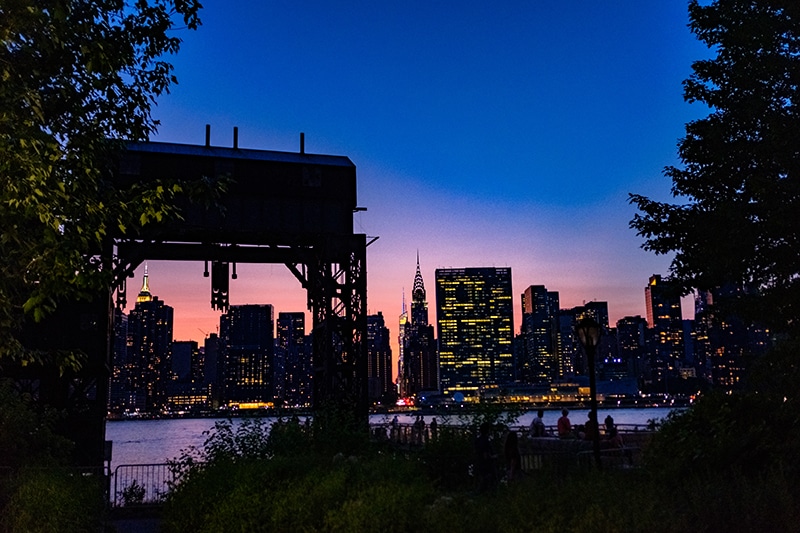 23. Take some skyline selfies while you stroll down the East River
Long Island City's Gantry Plaza State Park has some of the best Manhattan skyline views from Queens as well as plenty of seating for relaxing on a summer day.
Bring a picnic and watch the sunset through the skyscrapers across the river
Need help capturing the best of NYC — with you in the photos? Book one of our Private Photo Journeys, a walking tour that includes photos of your group to keep. Or step up your Instagram game with an NYC Influencer Shoot. Email [email protected]nycphotojourneys.com with inquiries.
24. Taste the many flavors of Queens at one of NYC's largest outdoor markets
Queens Night Market brings local vendors like Don Ceviche, Wembie, and Treestar NYC to the New York Hall of Science in Flushing Meadows-Corona Park every spring and summer for a celebration of the city's diversity and creativity.
Grab a bite, shop the stalls, and get to know your city a little better while enjoying the night air.
25. Become part of the art at one of the city's best sculpture parks
Located right on the East River in Long Island City, Socrates Sculpture Park features lifesize works from some of the top names in contemporary art.
Admission to the park is free, making it one of the best places for dates in NYC for those on a budget.
Best Summer Date Ideas In The Bronx
26. Take in the wonders of nature in the heart of the Bronx
Summer is one of the best times to visit the New York Botanical Garden and explore its 250 acres of flora from around the world.
If your date is missing trees in the Concrete Jungle, a stroll through the arboretums will be the perfect treat!
And that's not all. Other NYBG experiences include:
27. Enjoy the outdoors on a horseback trail ride through the Bronx (yes, really!)
Located in the borough's expansive Pelham Bay Park, the Bronx Equestrian Center offers trail rides through the park's well-preserved grounds for couples looking for a new way to enjoy the city.
BEC also offers riding lessons for all ages for those looking for date night classes in NYC.
Best Summer Date Ideas In Staten Island
28. Ride bikes along the boardwalk at one of Staten Island's best beaches
If you're looking for a more serene boardwalk experience, Franklin D. Roosevelt Boardwalk and Beach, located right off Ocean Breeze Park, is your best bet. The park's well-kept boardwalk is perfect for a bike ride on a summer day.
Don't own a bike?
Wheel Fun Rentals has you covered. And yes, they have surries for two.
29. Explore an ancient Chinese garden without ever leaving the city
Snug Harbor Cultural Center is home to the New York Chinese Scholar's Garden, modeled after the gardens of the Ming Dynasty.
It's a serene spot for a romantic walk come summertime.
Hello, #NYCRomance! These romantic hotels, tours, and experiences make it easy to plan a unique date in #NewYorkCity.
Best Romantic Hotels in NYC
There are many great hotels for couples in NYC.
A few of our favorite romantic properties include:
The NoMad Hotel. This luxury hotel in midtown combines stylish design with a welcoming feeling; a sumptuous property with a boutique flair inside of a gorgeous Beaux-Arts building. Their dining and drinking spaces are particularly noteworthy, each with it's its own unique aesthetic, from the airy atrium to the peaceful library.
The High Line Hotel. This stylish landmark hotel resides on the very grounds where Clement Clark Moore wrote "Twas the Night Before Christmas." The vibe is 19th century with numerous original touches, including stunning stained-glass windows. Opt for in-room views of either the High Line or the hotel garden.
The William Vale. This hip Williamsburg property features onsite Italian eatery, stunning gym, and seasonal pool. It's also home to one of our favorite New York City rooftops, Westlight, which offers a true 360-degree view and delicious craft cocktails.
Click here for a full list of romantic NYC hotels.
Or, if you'd like to get out of the city, here some of the most romantic hotels in Upstate NY!
What are your favorite summer date ideas in NYC?
Enjoyed this post? Pin it for later!
Pin me! 🙂
Related Posts
The following two tabs change content below.
Latest posts by Charlotte Dow (see all)