By Michele Herrmann & Jessie Festa. Guide to autumn in NYC contains affiliate links to trusted partners.
If you thought this urban destination was merely a concrete jungle, visiting New York City in fall will introduce you to the colorful, festive place it can be.
Within this cityscape, a NY autumn ushers in crisp air, fabulous foliage, and comfortable sweaters.
But, that's not all.
There are also seasonal events, hidden parks, scenic day trips, and unique experiences you can only enjoy for a few months each year.
Getting to many of these places often involves the swipe of MetroCard — or possibly the purchase of a train ticket — though all of the following fall experience suggestions encourage you to capture memories on your phone or camera while having your very own New York moment.
Keep reading for our guide to exploring New York City in autumn, with many unique options you won't read about in your guidebook.
We've even woven in some essential New York fall activities beyond the city walls!
Psst! Don't forget to pin this post for later!
When Does Fall Start In New York?
Technically, fall in New York starts in late September and runs until late December; however, changing weather patterns mean the warm shorts-and-tank top weather can run into October.
Of course, visiting NYC in October feels much different than visiting NYC in December.
This is the northeast, after all, so don't be surprised if you're wearing flannels in October and then having a snowball fight during the holiday season!
Things To Do In NYC During Autumn
Here are just a few of the myriad experiences to have in New York in fall.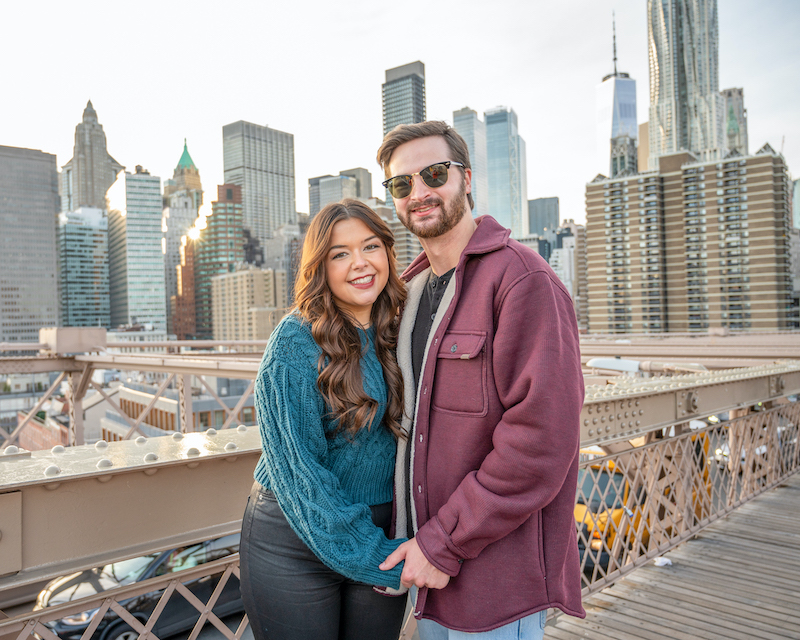 1. Take a tour that's also a photoshoot. Shameless plug, but our company offers a Private Photo Journey that not only includes a locally-led tour, but also professional photos for you to keep.
This private photo tour is great if you're looking for things to do in NYC by yourself — as well as if you're traveling in a group.
Our most popular 2-hour itinerary is Times Square – Central Park – Upper East Side – Brooklyn Bridge, which provides a great mix of landmarks, nature, architecture, skyline, and even fall foliage in NYC.
Check out our Instagram for more photo examples!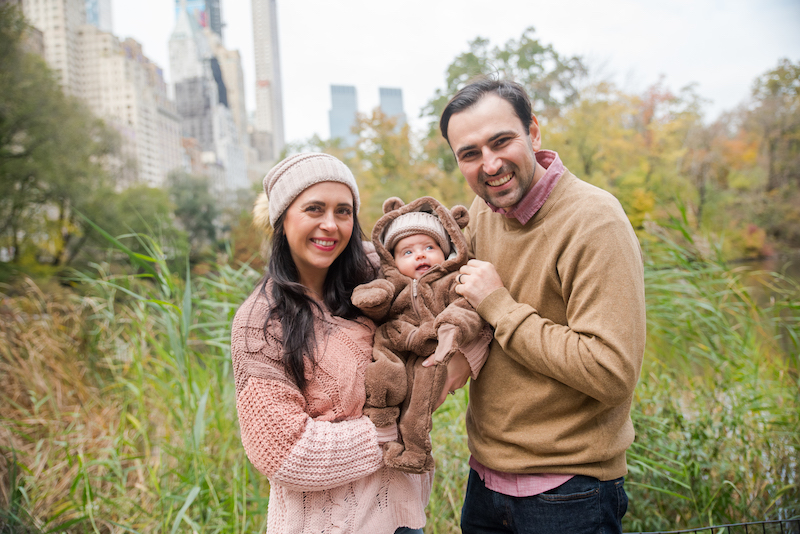 2. Book a private New York fall photoshoot. Along with the above-mentioned tours, NYC Photo Journeys offers private photoshoots.
With these, you get even more photos, poses, and looks — as well as a pre-shoot call to go over exactly what you hope to get out of the shoot.
Whether you're wanting to celebrate a milestone, preserve cherished memories, or just show off your favorite looks among the fall foliage, this experience provides professional images that tell the story you want to tell.
Check out our Instagram for more photo examples!
3. Walk among the woods in Pelham Bay Park. Located in The Bronx, NYC's largest park is full of forests, islands, bodies of water, woodlands, and places to enjoy an NYC picnic.
Among its three trails, the popular Kazimiroff Nature Trail runs through the park's Hunter Island.
4. Celebrate the Feast of San Gennaro in Little Italy. Looking for fun fall events in New York?
The 11-day Feast of San Gennaro is based on the tradition of honoring a patron saint brought over by immigrants from Naples. That being said, this September festival along Mulberry Street is equally noted for tons of food stalls selling Italian-American staples.
Bonus: You might spot actor Tony Danza manning one; he's a partner in Alleva Dairy, a Little Italy cheese shop.
Missed out on the festival dates? No worries. You can still venture around and dine within this Manhattan neighborhood or head up to the Bronx to their Little Italy along Arthur Avenue. In this section of the Bronx, the FERRAGOSTO Festival happens in early September and celebrates this Italian national holiday.
5. Walk along special streets. While walking is the norm here, the streets of New York are not created equal.
In DUMBO, Washington Street is the perfect spot for a perfectly-framed New York photo featuring the Manhattan Bridge and Empire State Building.
In Greenwich Village, Minetta Street is lined with 19th-century architecture and has a curve because of an underground stream shaping its bend.
There is a lot of notable history here, too.
Its chronology runs from being Dutch farmland to becoming a home for freed blacks to turning into a (no longer) rough and rowdy area.
Also, what is now a Mexican restaurant on Minetta had been known as Fat Black Pussycat, where Bob Dylan wrote "Blowin' in the Wind."
Harlem's Convent Avenue showcases homes linked to Duke Ellington and Cab Calloway, while Brooklyn Heights' Cranberry Street had screen time in Moonstruck.
6. Head to a beer hall for Oktoberfest. We've certainly collected some crazy stories from this event!
Raise a glass in NYC to this German tradition by ordering some bratwurst or schnitzel and a stein.
Bring your party to Bohemian Hall & Beer Garden in Astoria, Queens; Radegast Hall & Biergarten in Williamsburg, Brooklyn; Bierhaus NYC in Midtown Manhattan; Zum Schneider in Manhattan's East Village or at its temporary set up along the East River; or Spritzenhaus in Greenpoint, Brooklyn.
Or go even bigger:
During the first Saturday and Sunday in October, DUMBO is the staging for another Oktoberfest, transforming the Manhattan Bridge Archway into a traditional German "beer hall." It's a reason in itself to visit NYC in the fall.
7. Taste fall flavors at Park Avenue Autumn. This rotating fine dining restaurant in Manhattan's Flatiron District truly reflects the season, not only changing its New American menu offerings but also its décor.
To help patrons savor autumn in NYC, the venue serves lunch, brunch, and dinner plus has an hors d'oeuvres bar and specialty cocktails such as an "Autumn Spritz" with Courvoisier VS, spiced pear and Prosecco.
Also, if you're looking to celebrate your birthday in New York, this is a top pick!
8. Take a tour of the New York Botanical Garden. Wondering what to do in New York for 4 days, or even on a shorter trip? Here's an idea:
The 250-acre New York Botanical Garden in The Bronx showcases gorgeous gardens and plants that change with the seasons.
To help immerse you in the sights and scents of fall, this New York excursion pairs you with a knowledgeable employee who will introduce you to highlights of the gardens and plant collections.
The Bronx garden's Thain Family Forest is the largest remaining tract of old-growth forest in New York City, so definitely keep an eye out for this unique photo opportunity, especially near the waterfall within the woodland!
9. Tour an urban farm. From May through October, tour Brooklyn Grange's rooftop farm locations at the Brooklyn Navy Yard or Long Island City, Queens.
In the East River, Randall's Island Park has events for learning more about what grows at its Urban Farm and seeing its resident chickens. By the way, this island offers an incredible New York night view and is a great spot to go hiking in Manhattan.
10. Discover another kind of farm living. Visit farms from another time that are still around.
Queens County Farm Museum in Floral Park has a pick-your-own pumpkin patch and a traditional county fair in early October.
Moreover, the Dyckman Farmhouse Museum is the oldest remaining farmhouse in Manhattan, and the Wyckoff House Museum in Brooklyn has a Saturday farmer's market from June until November.
Then, there's Decker Farm in Staten Island's Historic Richmond Town, the oldest continuously operating small farm in New York City, where you can pick pumpkins, tour the 200-year-old grounds, see farm animals and enjoy hayrides.
11. Pay your respects at cemeteries. Interested in learning more about some of NYC's non-living tenants and doing one of the best walking tours in Brooklyn?
Brooklyn's Green-Wood Cemetery holds various public tours and events relating to those who are no longer with us; it's also the final resting place for famous New Yorkers, among them, Jean-Michel Basquiat and Leonard Bernstein.
Cypress Hill Cemetery, a burial site linked to Brooklyn and Queens, is where Mae West and Jackie Robinson lay.
The Bronx's Woodlawn Cemetery schedules walking and trolley tours connected to its occupants and history, with notable names ranging from Irving Berlin to NYC Mayor Fiorello LaGuardia (yes, that's who the airport is named after).
12. Admire architecture via Open House New York. Every October, Open House New York provides access to participating architectural sites of all types throughout the five boroughs — with a good number of them usually not open to the general public.
Check their website for a complete schedule and information on sites requiring advanced reservations.
13. Cheer on runners in the TCS New York City Marathon. Visiting New York in November?
Watch as participants embark on a 26.2-mile course across the five boroughs on the first Sunday in November.
The best observation areas extend to Fourth Avenue in Park Slope, Brooklyn; the Long Island City, Queens side of Pulaski Bridge; or Fifth Avenue from East 90th to 105th streets, before the runners enter Central Park.
Need help capturing the best of NYC — with you in the photos? Book one of our Private Photo Journeys, a walking tour that includes photos of your group to keep. Or get a styled, custom shoot that tells your unique story through an NYC Influencer Shoot or Professional New York City Shoot. Email [email protected] with inquiries.
14. Spend your evening at a night market. At the New York Hall of Science in Flushing Meadows, the Queens Night Market brings a solid mix of food and arts and crafts vendors in one setting, now until the end of October.
At Fordham Plaza, the seasonal Bronx Night Market runs through October and celebrates the culinary culture of this NYC borough.
Eat your way around the world and shop local, at the same time.
15. Take a scenic bike tour. With a slight chill — and the scent of pumpkin spice — in the air, a bike tour is an enjoyable way to explore NYC. Best of all, there are a number of routes to choose from, like:
16. Watch the Village Halloween Parade. Looking for worth-the-trip things to do in New York City in the fall?
This annual Halloween night parade in Greenwich Village shows how creative its costumed marchers can be.
The public can view — or even join in the festivities — along its route from 6th Avenue / Spring Street to 16th Street.
One important note:
You must be dressed up to participate!
17. Catch flicks at the New York Film Festival. Presented by the Film Society of Lincoln Center, this annual film fest — which runs from late September through early October — screens the best cinema in the world as well as interesting lectures and presentations.
18. Learn about Medieval times at the Met Cloisters. You'll see this attraction on many NYC itineraries, and for good reason.
Located in Fort Tryon Park, this branch of the Metropolitan Museum of Art is all about medieval European art, architecture, and gardens designed with elements from medieval cloisters and other related sites in Europe.
Before or after the Met Cloisters, check out Fort Tryon Park — one of the top New York Instagram spots and a great place to immerse yourself in nature.
Here you'll find eight miles of pathways, Hudson River views, and the Heather Garden, the city's largest garden with unrestricted public access and many plant and tree species.
The park is also the location for an annual medieval festival.
19. See the sunset on the Cantor Roof Garden Bar at the Met Fifth Avenue. Enjoy an outdoor happy hour at this fifth-floor bar at The Met Fifth Avenue, also known by its original name, the Metropolitan Museum of Art.
Weather permitting, the bar is open seasonally from mid-April through October and has an open-air setting with gorgeous NYC views of Central Park and the Manhattan skyline.
But first, give yourself some extra time to wander through this impressive art institution. Reach the bar via the elevator in the museum's European Sculpture and Decorative Arts galleries.
Pro tip:
If you're visiting the city with your partner, this is one of the top romantic things to do in NYC. It's also a popular option for celebrating an anniversary in New York City.
20. Go for a glass of cider at the Cardiff Giant. Named after one of the country's most famous hoaxes, the Cardiff Giant is a bar in Clinton Hill, Brooklyn that serves up many delicious beverages — including cider.
Their cider menu rotates weekly, though expect each offering to be carefully curated and every sip to immerse you in the flavors of fall.
21. Sip more during NY Cider Week. This November culinary event highlights this fruity libation with numerous food and drink-focused New York activities — within the city and beyond. I Love NY offers a comprehensive list of cideries and distilleries in New York State, too.
Check the website for a complete schedule encompassing tastings, dinners, classes and more.
22. Walk among Wave Hill's gardens. This public garden and cultural center in the northwest portion of the Bronx has great views of the Hudson River and the Palisades along its Pergola, plus its Flower, Wild and Aquatic gardens.
Garden highlights focus on seasonal blossoming, especially during fall.
23. Visit Bear Mountain by boat. Bear Mountain is a must-have fall day trip from NYC, especially if you want to see fall foliage in New York.
The best part of this excursion — one of New York's most popular Hudson River boat tours — is the weekend Oktoberfest celebrations taking place in the park from late September to late October.
Celebrating a fall birthday or milestone? This is also a fun option if you're looking to take a scenic party boat ride in NYC!
Need help capturing the best of NYC — with you in the photos? Book one of our Private Photo Journeys, a walking tour that includes photos of your group to keep. Or get a styled, custom shoot that tells your unique story through an NYC Influencer Shoot or Professional New York City Shoot. Email [email protected] with inquiries.
24. Bike along greenways. Manhattan's Hudson River Greenway follows the river from Battery Park to Fort Tryon Park, while the Bronx Greenway passes through all of its parks.
Additionally, the Eastern Queens Greenway also goes past parks, while the Brooklyn Waterfront Greenway traces the borough's working waterfront.
25. Hike along Staten Island's Greenbelt. This 2,800-acre nature preserve has six hiking trails for various abilities and four woodland trails permitting bikes and motorized vehicles.
Pro tip:
Grab a map from the Greenbelt Nature Center. Also, consider opting for rental gear to make your trip more sustainable.
26. Raise your pepper tolerance levels. In late September, Brooklyn Botanic Garden's Chile Pepper Festival encourages taste testing of locally-produced hot sauces, chile chocolates, and out-of-the-ordinary condiments.
On festival day or another day, linger within BBG's Herb Garden, Rock Garden, and Cranford Rose Garden.
27. Gaze along the High Line. This elevated rail line turned public green space has great photo angles at the Washington Grasslands and Woodland Edge (at 13th Street), Chelsea Grasslands (between 18th and 19th streets) and the Wildflower Field (between 28th and 30th streets).
Through October, Tuesday nights at dusk are for stargazing at Little West 12th.
Note:
The High Line is full of art, gardens, and history! You can book a guided tour — and see lovely New York foliage and fall plants — by clicking here.
28. Ride an aerial tram. For two MetroCard swipes round-trip, the Roosevelt Island Tramway provides sweeping overhead views of the East River from Manhattan to the island and back.
On the island, see Franklin Delano Roosevelt Four Freedoms Park, the remains of a smallpox hospital, a Cornell Tech campus and a 19th-century lighthouse.
29. Visit apparently haunted mansions. Visiting New York in October?
The Morris-Jumel Mansion in Washington Heights — the oldest house in Manhattan — holds paranormal investigation gatherings to try to communicate with the mansion's former residents.
Likewise in NoHo, the Merchant's House Museum delves into the paranormal with various October events in NYC. This New York City building is said to be haunted by Gertrude Tredwell, who once lived here with her parents — though she may not have left.
On Staten Island, the Historic Richmond Town is the site of paranormal investigations in September and October; hear stories about the island borough's haunted locations.
30. Get "cuke" over pickles. In October, Lower East Side Pickle Day honors the time when this neighborhood was brining with pickle pushcart vendors. On this tasty day, picklers bring their gherkins to Orchard Street.
While on the Lower East Side (LES), try old-world Jewish delicacies in a modern setting at Russ & Daughters Cafe, a restaurant offshoot of the famed appetizing store.
31. Take advantage of free admission museum evenings. Evenings a bit chilly for you?
Head inside for some art appreciation.
The Museum of Modern Art hosts UNIQLO Free Friday nights from 4pm to 8pm, while the Brooklyn Museum extends its time with Target First Saturdays.
Also on Friday nights, The Morgan Library & Museum is free from 7pm to 9pm and The Whitney Museum of American Art has pay what you wish entry from 7pm to 10pm.
The Frick Collection holds a First Friday evening of the month, from 6pm to 9 pm, except in September and January.
32. Shop for apples at Greenmarkets. Autumn in NYC is all about the apples!
Get your Honeycrisps, Empires, Galas and other varieties without having to leave the Big Apple by buying from regional farmers at Greenmarkets throughout the five boroughs.
33. Get out of the city for some apple picking. It's an hour and 30 minute trip from NYC to the Harvest Moon Farm & Orchard in North Salem, New York.
From Grand Central Terminal, head southeast on Metro-North Railroad's Harlem Line train and get off at Croton Falls; then take a two-mile cab ride.
Another great day trip from New York City:
Warwick, which is only 1.5 hours away by car — 2.5 hours by train — and is one of the top places for apple picking in New York State.
34. Take in the scenic beauty at Mohonk Mountain House. Fun fall getaways from NYC abound.
One suggestion:
This New Paltz resort within the Hudson Valley dates back to the 18th century and is one of the most romantic Upstate New York hotels.
Even if you can't stay the night, the Mohonk Mountain House has day guest packages for visitors, where they can explore its grounds or book spa treatments.
To get there, take the Metro-North Railroad from Grand Central or Amtrak via Penn Station. Get off at the Poughkeepsie Train Station and then take about a half-hour cab ride or Uber from there.
Pro tip:
Hiking Bull Hill in Cold Spring is another scenic and worthwhile Hudson Valley experience. Nearby, you can also hike Breakneck Ridge for incredible Hudson River views.
Further upstate, you'll find the stunning Mt Van Hoevenberg trail as well as the epic Mount Marcy hiking trail, both located in the Adirondacks.
35. Observe outdoor sculptures at the Storm King Art Center. This 500-acre outdoor museum in New York's Hudson Valley stages large-scale sculpture and site-specific commissions, putting natural settings in unison with man-made works.
Metro-North sells a getaway package with admission and a Harlem rail line ticket to Beacon Station. You can book shuttle service from the station in advance.
36. Hop on the Staten Island Ferry. Along with enjoying a free roundtrip ride, a ride on the Staten Island Ferry provides a different take on New York City's fall foliage by boat.
Leaving from terminals in Lower Manhattan and Staten Island, you'll see views of Battery Park and Brooklyn Bridge Park along with trees rooted along Staten Island, Liberty and Ellis Islands, and Governors Island.
37. Bite into freshly-made chocolate chip cookies. Is it just us, or does your sweet tooth come out in fall?
Get a gooey baked goodie from the decadent Levain Bakery, a local bake shop favorite known for its giant chocolate chip walnut cookies.
Maman is known for its nutty chocolate chip cookies, while Smile to Go bakes a dark chocolate chip sea salt cookie.
Moreover, Erin McKenna's Bakery has a vegan and dairy-free version — as well as seasonally-flavor donuts!
Need help capturing the best of NYC — with you in the photos? Book one of our Private Photo Journeys, a walking tour that includes photos of your group to keep. Or get a styled, custom shoot that tells your unique story through an NYC Influencer Shoot or Professional New York City Shoot. Email [email protected] with inquiries.
38. Dig into some mac and cheese. Beecher's Handmade Cheese serves a very rich version of this dish. Its eatery, The Cellar, sells a specially sized portion at a happy hour for $10.
Moreover, MacBar puts many creative twists on this cheesy meal — think lobster or duck confit — within its small space.
Additionally, S'MAC has gluten-free and vegan options, while Murray's Cheese Bar, the restaurant of the famous cheese shop, serves a secret four-cheese recipe.
39. Come across a pocket park. In Manhattan's Midtown, Greenacre Park is a small green escape complete with a 25-foot-high granite waterfall, seating areas, a raised terrace and lush plantings of honey locust trees.
40. Get the picture at Photoville. If you'll be in NYC in September, Photoville is held in Brooklyn Bridge Park over two weeks during the month.
This annual festival involves repurposed shipping containers being turned into photography exhibitions and outdoor installations.
Speaking of photos, Brooklyn Bridge Park is one of the best Brooklyn Bridge photo spots in NYC.
41. Get a much-needed laugh at the New York Comedy Festival. Every November, the crème de la crème of comedy gather for this seven-day line-up.
Get a chuckle from up-and-coming comedians and catch bits by noteworthy headliners.
42. Gaze at Jack O'Lantern displays. Get out of the city and head to Van Cortland Manor in Croton-on-Hudson for "The Great Jack O'Lantern Blaze," an elaborate and electrifying display of structures using real Jack O'Lanterns observed by passing along a walkway.
The event runs from September through November.
Tip:
If you're set on going, buy your tickets in advance ASAP as they sell out quickly.
From Grand Central Terminal, take the Hudson Line to Croton-Harmon Station, then get an Uber to the manor.
43. Watch parade balloons inflate. While there are many great Thanksgiving getaways from NYC, there is also a lot to do in the city.
In fact, the day before Thanksgiving, the streets surrounding the American Museum of Natural History on Manhattan's Upper West Side are where Macy's Thanksgiving Day Parade crews get parade balloons ready for the big day.
Watch them working from 1pm to 8pm, with the entry access point being West 74th street and Columbus Avenue.
From there, the public can watch the balloons being inflated on West 77th and 81st streets.
44. The next day, get a good viewing spot for the Macy's Thanksgiving Day Parade. Early risers should camp out starting at 6am along the west side of the street on Central Park West from 59th to 75th streets, where the parade runs from about 9am until 10:30 am.
If you're running late, venture further down the route on 6th Avenue, as the parade reaches here around 9:30 am.
45. Hop on a fall foliage brunch cruise in NYC. Savoring a brunch — particularly a boozy brunch in NYC — is a must-have experience.
On this Hudson River cruise, you'll board a 1920s-style yacht, savoring a four-course brunch while taking in views of Palisades Park, Manhattan's Upper West Side, the iconic George Washington Bridge and the golden foliage of the Hudson River Valley.
46. Take a tour of top NYC breweries. On this boozy NYC tour, you'll explore some of the best breweries in Long Island City, Queens.
Each space is unique and introduces you to the seasonal flavors of fall through beer.
Click here to book this New York brewery tour.
47. Take a trip to Niagara Falls from NYC. The falls themselves are breathtaking, and a must-have experience when visiting New York State.
What many people don't realize is there are other things to do in Niagara County, like seeing the murals of Art Alley, tasting terroir along the Niagara Wine Trail and seeing seasonal plants at the Botanical Gardens.
Short on time? You can actually visit Niagara Falls in one day from New York City on a tour.
48. Spend time relaxing at small parks in NYC. We particularly love Paley Park in Midtown for its gorgeous man-made waterfall.
There is also St. Luke's in the Fields in the West Village, which dates back to the 1840s, and the 91st Street Garden on the Upper West Side, appearing in the ending of the film, You've Got Mail.
Pro tip:
Bring your favorite travel journal, as this is a great place to get some writing in.
49. Visit Long Island during harvest season. Fun fact: Brooklyn and Queens are physically on Long Island, though note Long Island is not technically part of New York City's five boroughs.
It does make a fun NYC day trip though, especially during fall when it's harvest season and you can explore some of Long Island's 50+ wineries.
You can take public transportation, though the easiest way to do this trip is via a tour. This way you have a designated driver and can easily get from winery to winery. It's truly a highlight of Long Island travel!
Need help capturing the best of NYC — with you in the photos? Book one of our Private Photo Journeys, a walking tour that includes photos of your group to keep. Or get a styled, custom shoot that tells your unique story through an NYC Influencer Shoot or Professional New York City Shoot. Email [email protected] with inquiries.
50. See Alexander Hamilton's gravestone. Can't get tickets to "Hamilton: An American Musical"?
Here's another option:
Pay a visit, and your respects, to America's first Treasury Secretary at Trinity Church Wall Street, where he and his family are buried.
Don't worry, it's easy to spot the large white marble grave of Alexander Hamilton.
If you know the story of the Broadway musical, you might be aware that his wife, Eliza; his son, Philip; his sister-in-law, Angelica Schuyler Church; and his friend, Hercules Mulligan, are all here, too.
Another idea:
Take a Hamilton history tour with a knowledgeable local guide — like this one, which takes you to 17 different stops!
51. Savor dishes at top farm-to-fork eateries. One of the best ways to experience New York City in fall is through the palate.
And the best way to do that:
By dining at NYC restaurants renowned for their creative use of seasonal ingredients.
A few to try:
52. Have your fill of apple pie. There's more than one way to eat an apple. If having it as pie is part of your dessert MO, NYC has a plateful of options.
In Midtown, Little Pie Company puts out their Sour Cream Apple Walnut and Sugarless Apple pies plus their Salted Caramel Apple pie.
Four & Twenty Blackbirds, with locations in Prospect Heights and Gowanus, is also known for their Salted Caramel Apple pie and makes a Brown Butter Apple Streusel.
A different take, the Astoria cookie shop Chip — which now has grown to have multiple locations — bakes an apple oatmeal pie cookie that's got a sweet and chunky apple filling.
53. Get pumped up for pumpkin. If you're craving some pumpkin pie — or pumpkin in another tasty format — there are plenty of places to find this seasonal squash.
Two Little Red Hens in the Upper East Side is noted for their Pumpkin Harvest, a super-moist pumpkin spice cake with an apricot pumpkin cream cheese frosting and with a buttercream fall leaf decoration; then there's their pumpkin cheesecake and cupcake, too.
Donut-lovers can bite into pumpkin flavor with selections from Doughnut Plant, Dough Doughnuts, and The Doughnut Project.
Additionally, pumpkin ice cream gets scooped out at places like the Lower East Side and Union Square's il Laboratorio del Gelato, or the East Village's Sundaes and Cones.
Oh, and you definitely shouldn't miss the chance to get a fall festive Pumpkin Cinnamon Roll pint from Van Leeuwen, which has multiple locations around NYC.
54. Pursue Edgar Allan Poe's NYC life. Did you know that the poet — known for his tales of mystery and the macabre — lived in New York City for a while?
And some of the places tied to him still stand.
In Greenwich Village, the Northern Dispensary, a triangular building which can be seen from the outside along Christopher Street and Waverly Place, was once a medical clinic that Poe went to.
In the Fordham section of the Bronx, the Edgar Allan Poe Cottage was rented by Poe in the spring of 1846 in the hopes of helping his wife, Virginia, recover from tuberculous; though sadly, she died the following year. Today, it's managed by the Bronx Historical Society and can be visited.
Brennan Farm House, another home that Poe rented from, was torn down; but, a plaque at its former location at 215 West 84th Street — now the Eagle Court Apartment Building — marks where he wrote The Raven.
Or so we think.
There's a conflicting claim of the no-longer-around house's location and where Poe's famous poem was penned.
This place is said to be along what's named Edgar Allan Poe Street — a section of West 84th Street that meets West End Avenue.
The poet-inspired Edgar's Café was once based near this intersection but now sits farther up on Amsterdam Avenue between West 91st and 92nd streets.
55. Get bookish. For those who love literature, get some title suggestions at the Brooklyn Book Festival in mid-September, which features reading events, author appearances, and other page-turners.
Readers of The New Yorker can attend The New Yorker Festival in October, which features the publication's writers and editors in conversation with noted politicians, entertainers, and other well-recognized names.
The Printed Matter's NY Art Book Fair features artists, book buyers, collectors, dealers, curators, independent publishers, and other enthusiasts.
56. Swoon over costumed canines. Humans aren't the only creatures that can participate in NYC's Halloween events.
In October, The Tompkins Square Halloween Dog Parade in Alphabet City's Tompkins Square Park gives dressed-up pooches their moment to shine.
Moreover, Carl Schurz Park in Yorkville is the location for the annual Halloween Howl & Healthy Hound Fair, a fun furry procession of pets and their owners.
In Fort Greene in Brooklyn, the yearly Great PUPkin Dog Costume Contest puts pups and their humans to the test with creativity.
57. Spice up your chai tea. Go beyond chai tea lattes at coffee chains and instead head to establishments serving unique styles of this spicy drink.
On the Lower East Side, the Hideout Chai Bar offers masala chai — among other teas — all brewed in pots.
Gasoline Alley has a recipe for dirty chai, Intelligentsia Coffee has a high-marked version of this latte, Black Cat LES has a chocolate chai, and Saltwater Coffee puts out a kickin' masala chai as well as a vanilla chai, both of which are great for an autumn pick-me-up.
58. Merge through marshlands. Nature spots in NYC don't always have to be green. Marshlands also make for places for hiking.
While you need a car to get to the Marine Park Salt Marsh in Brooklyn's Marine Park, an almost one-mile loop gives a small preview of this 500-acre preserve with distant views of Manhattan and Gerritsen Creek.
Inwood Hill Park is home to the last remaining salt marsh in Manhattan. Its Shorakapok Preserve contains a combination of natural forest and salt marsh along with glacial geological formations.
Across from the Shorakapok Preserve, Muscota Marsh is a green space and ecological conservation site offering a good look at the Henry Hudson Bridge.
You can also learn about the marsh from the wildlife observation deck, or by venturing out on to a wooden deck stretching out to the waterway through the native water gardens.
There are places to sit and host picnics across the river from the towering cliffs of the Spuyten Duyvil and the Palisades, which blush under the Manhattan sunset, especially in autumn.
59. Be surprised at Brooklyn's BAM Next Wave Festival. From October through early December, this annual series at the Brooklyn Academy of Music – commonly known as BAM – puts the avant-garde in art through musical, theatrical, operatic, and dance performances.
60. Walk along the street fairs. During the fall, busy streets in the boroughs get a break from vehicles and get transformed into block parties.
On Brooklyn's Atlantic Avenue, the Atlantic Antic Festival in late September features food and merchandise vendors as well as live music performances.
Bonus:
Restaurants and bars set up special arrangements in front of their businesses.
Also in September, the Sixth Avenue Autumn Fair takes over the Avenue of the Americas from 42nd to 56th streets.
And the Hester Street Fair on the Lower East Side happens on Saturdays until the end of October.
61. Tour the grounds of Snug Harbor. On Staten Island in November, the staff at Snug Harbor Cultural Center & Botanical Garden conducts fall foliage tours leading into its pond garden and the New York Chinese Scholar's Garden.
During October, there are ghost-themed tours of the property that was once a retirement home for sailors.
Another neat find:
Produce grown at its 2.5-acre Heritage Farm is sold at the Saint George Greenmarket at St. Mark's Place and Hyatt Street.
Need help capturing the best of NYC — with you in the photos? Book one of our Private Photo Journeys, a walking tour that includes photos of your group to keep. Or get a styled, custom shoot that tells your unique story through an NYC Influencer Shoot or Professional New York City Shoot. Email [email protected] with inquiries.
62. Honor Native American culture. While NYC hosts a fall Columbus Day Parade, you can opt to learn more about Native Americans at the National Museum of the American Indian – New York.
Based inside the Alexander Hamilton U.S. Custom House, this Smithsonian museum holds permanent and temporary exhibitions along with public programs — including music and dance performances, films, and symposia — exploring the diversity of the Native people of the Americas.
63. Recognize the Day of the Dead. This Mexican holiday honors the deceased through displays and pageantry.
At El Museo Del Barrio, their family-friendly celebration of El Dia de Los Muertos involves face painting, art-making, performances and more.
The Brooklyn Children's Museum also offers a similar family-friendly event.
64. Come across interesting finds at flea markets. Outdoor flea markets allow for fun browsing and possible buys of just about anything that catches your eye.
Brooklyn Flea splits its weekends by having its Saturdays in Williamsburg — at Kent Avenue and N. 6th Street — and Sundays in DUMBO under the Manhattan Bridge.
And a quick tip:
Walking the Manhattan Bridge is also a fun experience!
On Sundays on Manhattan's Upper West Side, Grand Bazaar NYC is one of the oldest flea markets in the city, with indoor and outdoor shops.
And in Queens, LIC Flea & Food sits along the Long Island City waterfront — and includes a beer garden.
65. Head to historic military forts. NYC's history includes being a military stronghold, with many sites having a second use these days and can be visited. Some are part of the Gateway National Recreation Area.
Fort Tilden National Park in the Rockaways was built as an emergency protection site during World War I, and during the Cold War held nuclear missiles.
In Bayside, Fort Totten Park was used during the American Civil War, and Castle Clinton National Monument — in what is now Battery Park — was adapted as an entertainment forum, once home to the New York City Aquarium (which later moved to Coney Island) and then a pre-cursor to Ellis Island as an immigrant depot.
Then there is Fort Wadsworth, constructed by the British troops on Staten Island, who held their ground here during the American Revolutionary War.
66. See who is buried in Grant's Tomb. The actual answer to this question is Ulysses S. Grant and his wife, Julia. They are entombed in what is called "the largest mausoleum in North America."
In Upper Manhattan, specifically within Morningside Heights, see the General Grant National Memorial and learn more about his time as a Civil War general commanding the Union Army, a president, and more.
67. Marvel at park art. In Queens' Long Island City, Socrates Sculpture Park is a waterfront green space and outdoor museum with exhibitions and programs such as an annual Halloween festival that features cultural activities, costume making, and a doggie costume contest.
Its tree varieties, from birches to weeping willows, add extra color.
68. Be escorted on a Central Park walk. In October, this grand park is a sight to behold, particularly for those who love taking in fall foliage.
While you can certainly explore the attraction on your own, it helps to know that Central Park Conservancy guides provide an insider's look at this park through regularly scheduled and themed tours. And every late October, a Halloween Pumpkin Flotilla sets people's hand-carved Jack O' Lanterns sailing along the park's Harlem Meer.
Bonus:
Central Park is also a popular spot for a private NYC photo tour, private New York photoshoot, or even an NYC Influencer Shoot for those wanting to up their Instagram game. We'll show you the best Central Park photo spots so you leave with gorgeous pictures.
69. Do some thrift store and vintage shopping in NYC. Forgot your sweater but don't want to spend a fortune on shopping?
Don't worry:
New York City is home to some incredible second-hand stores.
With various locations, Housing Works has some hit-or-miss wardrobe items, interesting books, and unique housewares, though you'll always leave feeling good in supporting this nonprofit fighting HIV/AIDS and homelessness.
L Train Vintage, also with more than one location, is a goldmine for discounted designer clothing.
Plus, Beacon's Closet — with storefronts in Manhattan and Brooklyn — is a buy/sell/trade store with a lot to offer. They also help out local charities.
Don't miss the $5 jean wall at Monk Vintage in Brooklyn.
70. Check out new Broadway shows. Fall is a special time for Broadway, as the theater scene in NYC welcomes in new shows. You can see what's playing here or book a Broadway-themed tour here.
Also, for those who like to head off Broadway, the city's tourism board puts on a September-October promotion each year called Off-Broadway Week where you can snag two-for-one tickets.
71. Look at the Little Red Lighthouse. This light-emitting structure under the George Washington Bridge in Fort Washington Park is the only remaining lighthouse in Manhattan.
It also has its own little festival in early October showcasing art and food vendors, live music and readings of the book it's the subject of.
72. Visit a community garden in the East Village. The communal green spaces within this NYC neighborhood are a little oasis.
The 9th Street Community Garden — at East 9th Street and Avenue C — is a botanic garden with a gazebo, community space, and a composting setup.
Nearby, the Creative Little Garden on East 6th Street between Avenues A and B is a National Wildlife Federation Habitat.
Another suggestion:
Venture even further by checking out New York's other community gardens through the GrowNYC website.
73. See street art. Once an illegal nuisance, street art has grown into a respected medium fostering partnerships between artists and community leaders and business owners.
Visitors to and locals of NYC see the end results.
The 100 Gates Project started on the Lower East Side through agreed-on street art murals painted on storefront security roll-down gates.
The project now includes works done in East Harlem, North Shore Staten Island, Manhattan's East Village and Brooklyn's Little Caribbean, aka Flatbush.
Also on the Lower East Side — along East Houston Street and 1st Avenue — First Street Green Art Park is where artists can create work without worry, though they must submit their ideas to the park's curators first.
In Brooklyn, the Bushwick Collective is an open-air graffiti art gallery that you can wander through. It's widely considered one of the top NYC photography spots and is one of the most requested locations on our private photo tours and photoshoots.
74. Pay tribute to veterans. On Veteran's Day in early November, a major parade happens along Fifth Avenue from 26th to 46th Street starting at noon.
Want to wander on your own instead?
Stop at stations and memorials recognizing veterans from New York, like the New York City Vietnam Veterans Memorial Plaza — honoring those who served in the Vietnam War.
Moreover, the Soldiers' and Sailors' Monument in Riverside Park and the Soldiers' and Sailors' Arch in Grand Army Plaza both pay homage to those who died in the Civil War.
Also don't miss the American Merchant Mariners' Memorial in Battery Park, an extremely moving site based on a photograph of a marine vessel sunk during World War I.
75. Get a drink at these Halloween bars. There are bars in NYC where Halloween happens year-round.
Beetle House NYC in East Village is a Tim Burton-themed bar with a Goth-whimsical theme.
In the Gramercy district, the Headless Horseman NYC is a wooden tavern where the likes of Ichabod Crane would hang out at, and Barely Disfigured is a risqué cocktail bar in Carroll Gardens, Brooklyn.
76. Head up to Highbridge Park. On the western bank of the Harlem River in Washington Heights, Manhattan, this park's noted fact is that it's home to High Bridge, the city's oldest standing bridge. It originally opened as part of the Croton Aqueduct in 1848.
Quick aside, biking the Old Croton Aqueduct Trail is also a fun activity in fall!
The bridge reopened in 2015 as a pedestrian walkway after an extensive renovation that lasted over 45 years.
Also note:
Highbridge Park has the city's first mountain biking course, too.
77. Bite into scrumptious grilled cheese. Find cheesy goodness between bread slices with inventive pairings.
Our favorites:
78. Visit Alley Pond Park. As Queens' second-largest park, Alley Pond Park is home to the city's first nature trail and the oldest living organism in NYC — a towering tulip tree referred to as "the Queens Giant."
Need help capturing the best of NYC — with you in the photos? Book one of our Private Photo Journeys, a walking tour that includes photos of your group to keep. Or get a styled, custom shoot that tells your unique story through an NYC Influencer Shoot or Professional New York City Shoot. Email [email protected] with inquiries.
Where To Stay In New York City In Fall
There are many great hotels to choose from when visiting NYC in fall, a few of which include:
Crosby Street Hotel. This boutique SoHo hotel blends luxury with creativity. You'll find endless opportunities to take photos in the rooms and common spaces thanks to the carefully curated art and design pieces — not to mention a sculpture garden. Plus, their onsite restaurant and bar serves beautifully-plated food and expertly crafted drinks.
The High Line Hotel. This stylish landmark hotel resides on the very grounds where Clement Clark Moore wrote "Twas the Night Before Christmas." The vibe is 19th century with numerous original touches, including stunning stained-glass windows. Opt for in-room views of either the High Line or the hotel garden.
The William Vale. This hip Williamsburg property features onsite Italian eatery, stunning gym, and seasonal pool. It's also home to one of our favorite New York City rooftops, Westlight, which offers a true 360-degree view and delicious craft cocktails.
Click here for a full list of top-rated NYC hotels.
What are your favorite New York City in fall experiences?
Enjoyed this post! Pin it for later!
Related Posts
The following two tabs change content below.
Latest posts by Michele Herrmann (see all)