By Charlotte Dow. Note: This post contains links to our tours as well as affiliate links to partner tours.
Looking for fun spring date ideas in NYC?
One of the best things about living in New York City is getting to experience all four seasons to the fullest — beach trips in the summer, leaf-peeping in the fall, ice skating in the winter, and taking in all the colors of spring.
And naturally, we adjust our dating habits accordingly.
After a winter spent hibernating in our apartments and hotels with our significant others, binging as many shows as Netflix will allow, we're ready to shed our down coats and get a little fresh air while bonding with our boos.
From outdoor bars to botanical gardens to top film festivals, New York has so much to offer once spring has sprung.
It's about time to throw on your cutest spring outfit, grab your favorite person and go exploring.
And if you're looking for a little more inspiration, here are some of our top picks for spring dates in NYC.
Spring Dates Citywide
1. Book an NYC photo tour for two
Our private NYC Photo Journey is the perfect way to see the city while having professional photos snapped of you and your love.
Choose one of our suggested itineraries, or have our team customize something for you.
To see recent photo examples, you can visit us on Instagram (@NYCPhotoTour).
2. Book a Bushwick Beer, Bites & Street Art #InstaWalk
Prefer to learn photography? Want to visit one of the best places to take pictures in New York?
We offer a private photo workshop, mainly focused on the street art of the Bushwick Collective.
The experience also includes local bites, beers, and interesting history of the neighborhood.
Click here to learn more about this Bushwick photo tour.
3. Share some peanuts and Cracker Jacks at a New York City baseball game
There are plenty of ways to experience America's Pastime throughout the city, whether you're a lifelong fan or just there for the food.
Head to Yankees Stadium in the Bronx or Citi Field in Queens for Major League action starting in April, or catch the minor league Staten Island Yankees and Brooklyn Cyclones playing later in the season.
Spring Dates In Manhattan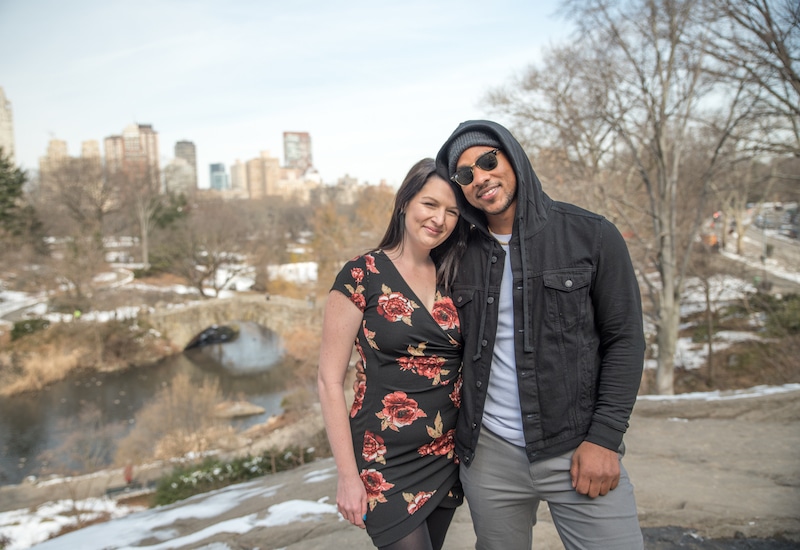 4. Take advantage of 843 acres of open space in the heart of Manhattan
With many different areas to explore and tons of great spots for picnics, Central Park has plenty of fun couples things to do in NYC.
Rent a rowboat for two at the iconic boathouse or check out the cherry blossoms along the Reservoir starting in April.
You can also go hiking in Central Park's Ravine — one of the most unique places in NYC — and see a waterfall!
Bonus:
This Central Park for Couples guide shares even more romantic ideas!
5. Explore an impressive art collection with incredible views
The Metropolitan Museum of Art is home to some of the most iconic works of art in the world.
It also features a roof garden that's become a fan favorite in recent years, offering one of the best views in NYC.
Come for the large sculptures from artists like Jeff Koons and Alicja Kwade, stay for a few sunset cocktails from the rooftop bar.
Need help capturing the best of NYC — with you in the photos? Book one of our Private Photo Journeys, a walking tour that includes photos of your group to keep. Or step up your Instagram game with an NYC Influencer Shoot. Email [email protected]nycphotojourneys.com with inquiries.
6. See some of the hottest films from Hollywood and beyond before they hit theaters
Looking for fun activities in NYC for couples?
The Tribeca Film Festival is one of New York's most highly-anticipated each spring, but don't let the glitz and glam scare you away!
Tickets to screenings are usually around $12 each, making it one of the best — and most surprising — cheap dates in NYC.
Pro tip:
This neighborhood offers a number of fun experiences, too, like the:
7. Toast the return of spring at one of the best rooftop bars in Manhattan
Located at the top of the McKittrick Hotel — home to Sleep No More — Gallow Green serves up lush settings, unique cocktails, and an excellent brunch menu all year long.
The restaurant's long banquet tables make it great for groups and one of the best double date spots in NYC.
If you're looking for places to go in New York City at night definitely add this spot to your list!
8. Browse exciting contemporary art on Randall's Island
The Frieze Art Fair, showcasing works from some of the top names in the art world, takes over the island park — easily accessible by ferry or bus — every May and makes for a great little day trip.
Want to experience Frieze without making the trek?
Frieze Sculpture brings free, public art to Rockefeller Plaza each spring as well.
9. Beat the Tony Buzz and see a new Broadway show in previews
With spring comes a flurry of new Broadway shows openings just in time for the Tony Awards, many of which offer discounted tickets during their preview periods.
Two tickets to what may become the next Hamilton is high on the list of great date night ideas of married couples. Book your babysitter now!
Want to make the date even more interesting?
Pair your show with a theater tour led by a Broadway actor!
10. Get your nerd on while exploring some of the most historic bars in Greenwich Village
There are many fun things to do in the West Village.
For couples that love books, history, and booze, a Literary Pub Crawl takes you through some of the many spots in the neighborhood that have inspired literary greats from Arthur Miller to Walt Whitman.
And of course, you'll enjoy some great drinks along the way.
Need help capturing the best of NYC — with you in the photos? Book one of our Private Photo Journeys, a walking tour that includes photos of your group to keep. Or step up your Instagram game with an NYC Influencer Shoot. Email [email protected]nycphotojourneys.com with inquiries.
11. Explore medieval art and architecture right in Fort Tryon Park
Built from actual medieval European cloisters, The Met Cloisters is one of the brightest gems in Manhattan's art scene.
The incredibly-preserved architecture will make you feel like you're a world away, perfect for romance in NYC.
Spring Dates In Brooklyn
12. Stroll through a grove of blooming cherry trees in the heart of Prospect Park
Who says you have to go all the way to Japan to see cherry blossoms?
A whole section of the Brooklyn Botanic Garden is dedicated to these gorgeous trees, and a visit to the garden — ideally with your honey — is a must in springtime.
Be sure to check their website in March to see when the trees will be in bloom.
You can also book a three-course meal at the onsite Yellow Magnolia Cafe.
13. Sample the many flavors of Brooklyn at the borough's hottest food fair
With locations in Williamsburg and Prospect Park, a weekend afternoon at Smorgasburg is the best way to get to know some of the city's tastiest independent food vendors and introduce your date to new flavors.
The market features everything from Ethiopian food to fresh-from-the-coconut milk and is one of the best places for dates in NYC, particularly for foodie couples.
14. Get your freak on at Coney Island before the summer crowds arrive
Sideshows by the Seashore, performed just a block from the beach at Coney Island USA starting in April, is a great way to relive the glory days of the storied boardwalk while seeing some truly eye-popping acts.
This show is not for the faint of heart, but it definitely makes our list of weird date ideas in NYC.
15. See how the chocolate gets made at one of the city's oldest chocolatiers
Make an appointment to tour the Li-Lac Chocolate Factory at Industry City for a truly sweet date.
This tour is perfect for food nerds looking for chocolate classes in NYC, as you'll actually get a chance to make your own creation.
That's way better than just bringing home a heart-shaped box from the drugstore.
16. Enjoy a cozy meal and delicious cocktails at one of the best romantic restaurants in Brooklyn
Located in Greenpoint, Milk and Roses is a favorite among Brooklyn romantics for its gorgeous space and charming garden.
The restaurant is so romantic that it's become one of the most popular wedding venues in the area!
17. Roast some S'mores at a camping-themed bar in Boerum Hill
The aptly-named Camp offers great cocktails, indoor S'mores, and plush sofas for getting cozy.
Challenge your date to a game of Big Buck Hunter — winner buys the next round!
Need help capturing the best of NYC — with you in the photos? Book one of our Private Photo Journeys, a walking tour that includes photos of your group to keep. Or step up your Instagram game with an NYC Influencer Shoot. Email [email protected]nycphotojourneys.com with inquiries.
18. Learn to make your favorite take-out dishes at home at one of the best couples cooking classes in the city
The Brooklyn Kitchen strives to help people cook like grown-ups and offers classes in everything from hand-pulled noodles to Mexican street food.
Skip Seamless this Friday night and learn something new at one of the best date night classes in NYC.
Spring Dates In Queens
19. CZECH each other out over a few beers at one of the city's largest beer halls
Bohemian Hall and Beer Garden in Astoria is home to a huge indoor and outdoor space that's a favorite for large gatherings and intimate dates alike.
And with a large menu of Czech and Eastern European favorites at reasonable prices, it's one of the most inexpensive romantic restaurants in NYC.
Spring Dates In The Bronx
20. Immerse yourself in a world of color at the New York Botanical Garden
Held every year in the early spring, the Garden's Orchid Show is a favorite of couples throughout the city.
Check out the blooms, then enjoy a walk through the garden's expansive grounds that always have something to offer.
Pro tip:
You'll want your camera for the Waterfall Walk.
Click here to purchase your New York Botanical Garden ticket.
Spring Dates In Staten Island
21. Get outdoorsy and go for a great hike — without ever leaving the city
Blue Heron Park's expansive grounds have so much to see.
This natural attraction is especially perfect for birding couples looking to spot the park's namesake.
Looking for more ideas? Check out our roundup of 25 unique winter date ideas in NYC, with numerous options couples can enjoy all year long!
Best Romantic Hotels In NYC
Looking for a romantic hotel to pair with the above experiences?
Some of our top picks include:
Click here for a full list of romantic NYC hotels.
What are your favorite fun spring date ideas in NYC?
Enjoyed this post? Pin it for later!
Pin me! 🙂
Related Posts
The following two tabs change content below.
Latest posts by Charlotte Dow (see all)