By Charlotte Dow. Note: This guide to New York City's best spring dates contains links to our tours as well as affiliate links to trusted partners.
Looking for fun spring date ideas in NYC?
One of the best things about living in New York City is getting to experience all four seasons to the fullest — beach trips in the summer, leaf-peeping in the fall, ice skating in the winter, and taking in all the colors of spring.
And naturally, we adjust our dating habits accordingly.
After a winter spent hibernating in our apartments and hotels with our significant others, binging as many shows as Netflix will allow, we're ready to shed our down coats and get a little fresh air while bonding with our boos.
From outdoor bars to botanical gardens to top film festivals, New York has so much to offer once spring has sprung.
It's about time to throw on your cutest spring outfit, grab your favorite person, and go exploring.
And if you're looking for a little more inspiration, here are some of our top picks for spring dates in NYC.
Fun Date Ideas In NYC In Spring (Citywide)
1. Book an NYC photo tour for two
Looking for photography date ideas? Our private NYC Photo Journey is the perfect way to see the city while having professional photos snapped of you and your love.
Choose one of our suggested itineraries, or have our team customize something for you.
To see recent photo examples, you can visit us on Instagram (@NYCPhotoTour).
2. Book a romantic spring photoshoot
If you don't really care about the tour aspect and want to maximize the amount of photos, poses, and looks you get, it's recommended to instead opt for a Professional NYC Photoshoot — which also comes with a pre-shoot planning call!
The shoot is 100% customizable and based on your goals. You can let us know your preferred spots, or we can offer suggestions for the best places to take pictures in New York.
During spring in NYC, a few popular photoshoot locations include Central Park (especially to get the cherry blossoms) and Brooklyn Bridge Park (which also includes skyline views).
To see recent photo examples, you can visit us on Instagram (@NYCPhotoTour).
3. Share some peanuts and Cracker Jacks at a New York City baseball game
There are plenty of ways to experience America's Pastime throughout the city, whether you're a lifelong fan or just there for the food.
Head to Yankees Stadium in The Bronx or Citi Field in Queens for Major League action starting in April, or catch the minor league Staten Island Yankees and Brooklyn Cyclones playing later in the season.
4. Have a romantic bookstore date
A bookstore date is a fun and unique NYC date idea. Even if you've just done your spring cleaning, you can always find space on your shelves for new books!
Some of the best bookstores to check out include McNally Jackson (specifically their Prince Street location in SoHo), Housing Works Bookstore (also in SoHo), and Shakespeare & Co (in the Upper East Side).
All three have cafes where you can cozy up over cups of coffee after you do some book shopping.
5. Plan a picnic to celebrate spring in New York
Now that the weather is warming up again, grab a blanket and your favorite cheeses and visit some of the great picnic spots in NYC!
A picnic is the quintessential outdoor date idea, and is a top pick when it comes to romantic things to do in NYC in spring.
Central Park is a go-to spot for picnics — particularly Turtle Pond overlooking Belvedere Castle — but you could also check out Prospect Park in Brooklyn, Fort Tryon Park in upper Manhattan, or Governors Island.
The latter is home to the stunning Picnic Point, where you can rent a grill for the day, relax in giant Adirondack chairs, and take in views of the Statue of Liberty.
If you want to get really fancy, there are companies like Perfect Picnic and PikNYC that will cater a picnic for you, which is perfect for an NYC anniversary date or another special occasion!
6. Celebrate Cinco de Mayo
Cinco de Mayo is a fun spring holiday that occurs every year on May 5. While it originated in Mexico to celebrate the Mexican army's victory against the French at the Battle of Puebla in 1862, this holiday is now widely celebrated in the United States.
It's the perfect excuse to fill up on margaritas and chips and queso at one of the many Mexican restaurants in NYC.
A few top picks include:
Tacombi, who also incorporates a charity aspect to their menu every year
La Barca Cantina, a floating Mexican restaurant
The Ready, a gorgeous rooftop with wallet-friendly taco and margarita deals
Atla, which serves up some of NYC's best tacos and is from the team behind, Cosme — which is consistently touted as one of New York's best Mexican restaurants
Spring Dates In Manhattan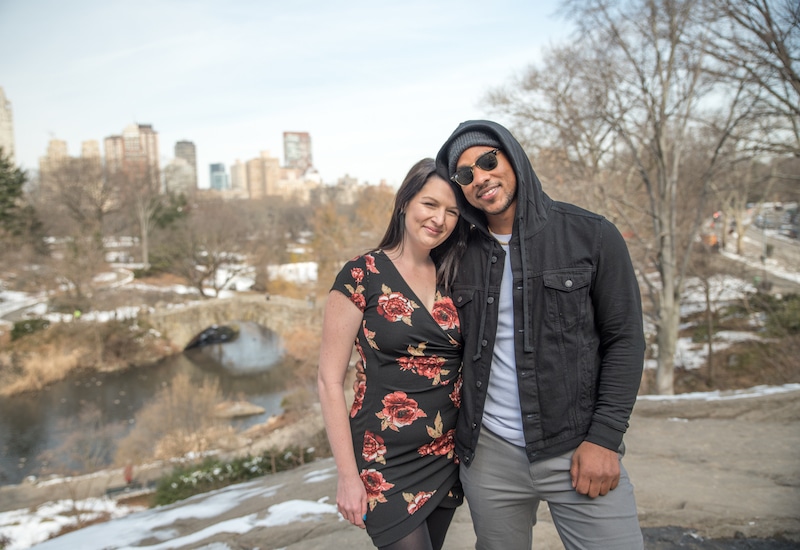 7. Take advantage of 843 acres of open space in the heart of Manhattan
With many different areas to explore, Central Park has plenty of fun couples things to do in NYC.
Rent a rowboat for two at the iconic Boathouse or check out the cherry blossoms along the Reservoir starting in April. Both of these are top places to take pictures in Central Park.
You can also go hiking in Central Park's Ravine — one of the most unique places in NYC — and see a waterfall!
Bonus:
This Central Park for Couples guide shares even more romantic ideas!
8. Explore an impressive art collection with incredible views
The Metropolitan Museum of Art is home to some of the most iconic works of art in the world.
It also features a roof garden that's become a fan favorite in recent years, offering one of the best views in NYC.
Come for the large sculptures from artists like Jeff Koons and Alicja Kwade, and stay for a few sunset cocktails at the rooftop bar.
9. See some of the hottest films from Hollywood and beyond before they hit theaters
Looking for fun activities in NYC for couples?
The Tribeca Film Festival is one of New York's most highly-anticipated each spring, but don't let the glitz and glam scare you away!
Tickets to screenings are usually around $12 each, making it one of the best — and most surprising — cheap dates in NYC.
Pro tip:
This neighborhood offers a number of fun experiences, too, like a Tribeca Architecture & History Walking Tour, which takes you through 300 years of Manhattan history. Bonus: You and your beau will be able to take a photo with the famous Ghostbusters Firehouse!
Need help capturing the best of NYC — with you in the photos? Book one of our Private Photo Journeys, a walking tour that includes photos of your group to keep. Or get a styled, custom shoot that tells your unique story through an NYC Influencer Shoot or Professional New York City Shoot. Email [email protected] with inquiries.
10. Toast the return of spring at one of the best rooftop bars in Manhattan
Located at the top of the McKittrick Hotel — home to Sleep No More — Gallow Green serves up lush settings, unique cocktails, and an excellent brunch menu all year long.
The restaurant's long banquet tables make it great for groups and one of the best double date spots in NYC.
If you're looking for places to go in New York City at night definitely add this spot to your list! It's a fun pick when it comes to NYC spring date ideas.
11. Browse exciting contemporary art on Randall's Island
The Frieze Art Fair, showcasing works from some of the top names in the art world, takes over the island park — easily accessible by ferry or bus — every May and makes for a great little day trip.
Want to experience Frieze without making the trek?
Frieze Sculpture brings free public art to Rockefeller Plaza each spring as well.
12. Get your nerd on while exploring some of the most historic bars in Greenwich Village
For couples that love books, history, and booze, a Literary Pub Crawl takes you through some of the many spots in the neighborhood that have inspired literary greats from Arthur Miller to Walt Whitman.
And of course, you'll enjoy some great drinks along the way.
13. Beat the Tony Buzz and see a new Broadway show in previews
With spring comes a flurry of new Broadway show openings just in time for the Tony Awards, many of which offer discounted tickets during their preview periods.
Two tickets to what may become the next Hamilton is high on the list of great date night ideas in NYC. Book your babysitter now!
Want to make the date even more interesting?
Pair your show with a theater tour led by a Broadway actor!
Need help capturing the best of NYC — with you in the photos? Book one of our Private Photo Journeys, a walking tour that includes photos of your group to keep. Or get a styled, custom shoot that tells your unique story through an NYC Influencer Shoot or Professional New York City Shoot. Email [email protected] with inquiries.
14. Explore medieval art and architecture right in Fort Tryon Park
Built from actual medieval European cloisters, The Met Cloisters is one of the brightest gems in Manhattan's art scene.
The incredibly-preserved architecture will make you feel like you're a world away, perfect for romance in NYC.
15. Take a day trip to Governors Island
Governors Island is a 172-acre car-free island in New York Harbor that has been transformed into a public park and recreation space.
There are many activities on Governors Island, especially if you're looking for fun things to do in NYC for couples.
For the ultimate springtime date, make the quick ferry journey over and spend the afternoon taking in the public art installations, enjoying cocktails paired with epic views at Island Oyster, indulging in spa treatments at QC NY, climbing The Hills to take in beautiful views, relaxing in hammocks at Hammock Grove, and exploring the peaceful island by bike or on foot.
This is a great option if you're searching for out-of-the-box date ideas in NYC!
16. Enjoy a romantic dinner cruise
A sunset dinner cruise is a great spring date idea. Several companies offer dinner cruises departing from Chelsea Piers in Manhattan, and you'll be able to sip Champagne and enjoy a tasty meal as you take in beautifuls views of New York Harbor, the Statue of Liberty, and the city's skyline.
Some dinner cruises even include live music to add to the ambiance or have a niche focus like these New York City architectural tours.
A few top picks for this NYC spring idea include:
Click here for a full list of sunset cruises.
17. Stroll the High Line
The High Line in Chelsea is a 1.45-mile-long park that meanders over old elevated railroad tracks.
For the perfect spring date, start in Hudson Yards and stroll the length of the High Line, which features public art installations, places to eat and drink, and sitting areas offering epic city views. Then finish in the Meatpacking District with lunch in Chelsea Market or a visit to the Whitney Museum of American Art.
The High Line is full of interesting history, so consider booking a guided tour — like a Secrets Of The High Line tour.
Another idea? Visit on a Tuesday night at dusk to take part in their stargazing programming!
18. Join the St. Patrick's Day festivities
New York is one of the best cities in the world for celebrating St. Patrick's Day, and a St. Patrick's Day date is guaranteed to be a ton of fun!
Every year on March 17, New York goes all out celebrating this holiday, which originated in Ireland.
The atmosphere in every Irish bar and pub is sure to be lively, making for a fun date spot.
Also, you can attend the annual St. Patrick's Day Parade, which draws a crowd of over 700,000 revelers. It's perfect if you're looking for fun things to do in NYC for couples!
19. Spend the day in Greenwich Village
There's no place to be on a warm spring day like Greenwich Village.
Start your date off by people-watching and listening to live music in Washington Square Park.
Depending on the time of day, you can grab brunch at one of the neighborhood's many cafes and restaurants, like Tartine (French) or Lamano (Spanish).
Or if it's evening, head to one of the intimate jazz clubs The Village is famous for, like Blue Note Jazz Club or Smalls Jazz Club.
Here are some other fun things to do in the West Village and Greenwich Village.
20. Go wine tasting at City Vineyard
City Vineyard in Tribeca offers unique wine-tasting experiences in a stunning location.
For the ultimate spring date idea, book a wine tasting on their rooftop deck. You can sample locally-made wines while enjoying the breezy spring weather and skyline views.
Many of their wine-tasting events also feature live music, making for a great ambiance.
Spring Dates In Brooklyn
21. Sample the many flavors of Brooklyn at the borough's hottest food fair
With locations in Williamsburg and Prospect Park, a weekend afternoon at Smorgasburg is the best way to get to know some of the city's tastiest independent food vendors and introduce your date to new flavors.
The market features everything from Ethiopian food to fresh-from-the-coconut milk and is one of the best places for dates in NYC, particularly for foodie couples.
22. Stroll through a grove of blooming cherry trees in the heart of Prospect Park
Who says you have to go all the way to Japan to see cherry blossoms?
A whole section of the Brooklyn Botanic Garden is dedicated to these gorgeous trees, and a visit to the garden — ideally with your honey — is a must in springtime.
Be sure to check their website in March to see when the trees will be in bloom.
You can also enjoy a romantic meal at the onsite Yellow Magnolia Cafe, which we recommend pairing with their namesake spritz cocktail laced with elderflower-ginger syrup.
23. Get your freak on at Coney Island before the summer crowds arrive
Sideshows by the Seashore, performed just a block from the beach at Coney Island USA starting in April, is a great way to relive the glory days of the storied boardwalk while seeing some truly eye-popping acts.
This show is not for the faint of heart, but it definitely makes our list of weird date ideas in NYC.
24. Enjoy a cozy meal and delicious cocktails at one of the best romantic restaurants in Brooklyn
Looking for Brooklyn date ideas in spring?
Located in Greenpoint, Milk and Roses is a favorite among Brooklyn romantics for its gorgeous space and charming garden.
The restaurant is so romantic that it's become one of the most popular wedding venues in the area, and is also one of the best places to celebrate a birthday in NYC!
25. Make sweet treats during a chocolate class
Raaka is a chocolate shop that makes unroasted dark chocolate from scratch using ethical processes.
For a truly sweet date, opt for one of their chocolate classes in NYC, as you'll actually get a chance to make your own creation. A few options include:
Bean to Bar Chocolate Making
Coffee & Chocolate Tasting Class
Hand-Rolled Truffle Making
That's way better than just bringing home a heart-shaped box from the drugstore.
26. Learn to make your favorite take-out dishes at one of the best couples cooking classes in the city
The Brooklyn Kitchen strives to help people cook like grown-ups and offers classes in everything from hand-pulled noodles to Mexican street food.
Skip Seamless this Friday night and learn something new at one of the best date night classes in NYC.
Need help capturing the best of NYC — with you in the photos? Book one of our Private Photo Journeys, a walking tour that includes photos of your group to keep. Or get a styled, custom shoot that tells your unique story through an NYC Influencer Shoot or Professional New York City Shoot. Email [email protected] with inquiries.
27. Rent bikes in Brooklyn
Citi Bikes are inexpensive bicycles that you can rent all across NYC, with tons of pickup and dropoff locations to choose from.
For a fun outdoor spring date idea, rent Citi Bikes in Brooklyn. Some of the best areas to bike are Brooklyn Bridge Park and the Brooklyn Waterfront Greenway.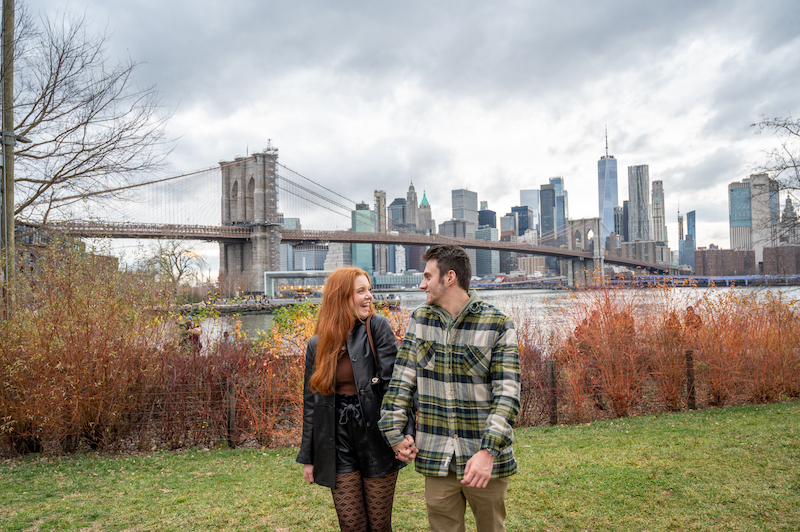 28. Walk across the Brooklyn Bridge into DUMBO
While this excursion is fun any time of year, it's a lot more enjoyable once the weather warms up.
Walk over the Brooklyn Bridge into the DUMBO neighborhood of Brooklyn and make your way to Brooklyn Bridge Park to take in epic views of the One World Trade and Brooklyn Bridge. In fact, this is one of the best Brooklyn Bridge photo spots in NYC.
Have lunch at Time Out New York Market — either inside the market itself or at their rooftop eatery — before heading to their rooftop park to relax.
Consider also taking a ride on Jane's Carousel to feel like a kid again.
Note: The Brooklyn Bridge and DUMBO are popular locations on our private NYC photoshoots, too!
29. Have a modern movie date at Nitehawk Cinema
Who says a date at the movies has to be cliche? Nitehawk Cinema offers an elevated moviegoing experience that makes it perfect for a spring date night in NYC.
This movie theater has a full bar and menu, so you can order dinner and drinks directly to your comfortable reclining seat to enjoy during the show.
Rather than your typical blockbusters, Nitehawk Cinema mainly screens independent films, foreign films, award nominees, and cult classics. They also do a number of interesting series, including many seasonal options like March Madness and Spoons, Toons & Booze Spring Break.
30. Enjoy a playful spring date at Industry City
Industry City is a vibrant complex of creativity showcasing locally-made food, drinks, goods, and art on the Brooklyn waterfront.
There are so many things to do here that you can certainly choose your own adventure on this spring date, though a few recommendations to weave into your itinerary include:
A delicious meal in the Japanese Village
Ginger-laced cocktails at Barrow's Intense Ginger Liqueur
A few games of pétanque at Carreau Club
Public art put on by The Collision Project
Sustainably sourced coffees at the Brooklyn Roasting Company
Spring Dates In Queens
31. CZECH each other out over a few beers at one of the city's largest beer halls
Bohemian Hall and Beer Garden in Astoria is home to a huge indoor and outdoor space that's a favorite for big gatherings and intimate dates alike.
And with a large menu of Czech and Eastern European favorites at reasonable prices, it's one of the most inexpensive romantic restaurants in NYC.
32. Try your hand at rock climbing
If you're up for an adventurous spring date, why not try indoor rock climbing at The Cliffs in Long Island City?
Known for being one of the best and largest indoor rock climbing gyms in New York, The Cliffs offers over 100,000 square feet of climbing routes for all skill levels.
New to the sport? They also offer classes to help you get comfortable and perfect your climbing technique!
33. Eat your way through the Queens Night Market
The Queens Night Market is a seasonal outdoor food market in Flushing, Queens with over 100 independent food vendors from around the world.
The market starts running again in April, making this the perfect spring date night idea in New York.
Spring Dates In The Bronx
34. Explore the "real" Little Italy
Manhattan's Little Italy neighborhood may be famous, but it's overrun with tourists and Italian food that's hardly authentic.
However, Arthur Avenue in The Bronx is a lesser-known, more authentic Little Italy packed with delicious Italian restaurants.
Grab dinner at Enzo's, Zero Otto Nove, or one of the other Italian restaurants lining the street for the perfect date — and don't forget to split a tiramisu for dessert!
Since it's now warm enough to wander, you might also pop into a few of the local delis and specialty shops — like Joe's Italian Deli, which is known for having some of the best mozzarella in NYC, and Borgatti's, which has been making homemade ravioli and egg noodles since 1935.
35. Immerse yourself in a world of color at the New York Botanical Garden
Held every year in the early spring, the New York Botanical Garden Orchid Show is a favorite of couples throughout the city.
Check out the blooms, then enjoy a walk through the garden's expansive grounds that always have something to offer.
Pro tip:
You'll want your camera for the Waterfall Walk.
Click here to purchase your All-Access-Pass for the New York Botanical Garden.
Spring Dates On Staten Island
36. Take a romantic ride on the Staten Island Ferry
When it comes to free and fun spring date ideas in NYC, it's hard to beat the Staten Island Ferry.
This free ferry runs from Lower Manhattan to Staten Island, offering amazing views of the Statue of Liberty and New York Harbor.
Want to imbibe? It's BYOB! In fact, there are shops in the Manhattan ferry terminal (Whitehall Terminal) before you board that sell beer and wine.
Instead of turning back around when you reach Staten Island, spend some time exploring this underrated borough — which contains hidden gems like the Snug Harbor Cultural Center & Botanical Garden.
For one of the most unique restaurants in New York, opt for dinner at Enoteca Maria and sample a delicious meal made by grandmas from around the world!
37. Get outdoorsy and go for a great hike — without ever leaving the city
Blue Heron Park's expansive grounds have so much to see.
This natural attraction is especially perfect for birding couples looking to spot the park's namesake.
Need help capturing the best of NYC — with you in the photos? Book one of our Private Photo Journeys, a walking tour that includes photos of your group to keep. Or get a styled, custom shoot that tells your unique story through an NYC Influencer Shoot or Professional New York City Shoot. Email [email protected] with inquiries.
Looking for more ideas for New York City dates? Check out our roundup of 25 unique winter date ideas in NYC, with numerous options couples can enjoy all year long!
Best Romantic Hotels In NYC
Looking for a romantic hotel to pair with the above experiences? Some of our top picks include:
Click here for a full list of romantic NYC hotels.
What are your favorite fun spring date ideas in NYC?
Related Posts
The following two tabs change content below.
Latest posts by Charlotte Dow (see all)