By Elizabeth Rotonda & Jessie Festa. Note that this post on Central Park for couples features affiliate links to trusted partners we think you'll love!
Looking for a guide to Central Park for couples?
Then you're in the right place!
It's not called the heart of Manhattan for nothing. Central Park is truly the perfect place to fall in love!
Within these 843 acres of green space, you'll find many different areas to explore and loads of romantic experiences, from bike rides to free music and everything in-between.
Whether you're meeting up with someone from Tinder for the first time or you've been married for years, Central Park is a great place to find creative ideas for your next date.
The best part?
Central Park is full of great activities year-round, so whether it's the heat of summer or the dead of winter, there's always something fun to do!
To help with planning, we've put together a list of our favorite date ideas in Central Park with activities for every kind of couple.
Whether you're eager to stretch your muscles outside or you're just looking for a place to relax away from the hustle and bustle of the city, you're sure to find inspiration on this list.
Central Park Map
To help you get a lay of the land, here is a map of Central Park:
Additionally, you can check out this map sharing different points of interest in Central Park.
Central Park For Couples Activities & Experiences
1. Book an NYC photo tour for two
Looking for unique date ideas in New York?
Shameless plug:
Our private NYC Photo Journey is the perfect way to see all the great things Central Park has to offer while having professional photos snapped of you and your love.
Choose one of our suggested itineraries — which include romantic locations like Central Park, the Brooklyn Bridge, and DUMBO — or have our team customize something for you.
Want photos but don't really care about the tour aspect? Our NYC Influencer Shoots and Professional NYC Photoshoots come with even more photos, outfit changes, and a pre-shoot consultation! You don't need to be an influencer to book, as this experience is for anyone wanting a custom New York photoshoot.
To see recent photo examples, you can visit us on Instagram (@NYCPhotoTour).
2. Enjoy an NYC picnic at the Arthur Ross Pinetum
There are so many great places to picnic in Central Park, but the Arthur Ross Pinetum is one of the best for its picnic tables and relative privacy.
This four-acre arboretum also features 17 different species of pine trees.
Bonus:
It's just off the beaten path enough not to be overflowing with people, and there is plenty of shade.
3. Go hiking in the Central Park
There are many great places to go hiking in Manhattan — like the Ravine in Central Park, one of the most unique places in NYC!
If you commit to this easy trek, you'll even get to view a waterfall, as you can see in the video above by Jessie Festa, the founder of NYC Photo Journeys.
4. Ride bikes around the Central Park Loop
Looking for a more active date idea, or maybe unique NYC anniversary date ideas?
Riding bikes around the Loop is a great way to spend an hour — or more.
If you plan it right, you can even hit other must-see spots on this list along the way!
Click here to reserve your Central Park bike rental.
Click here to book a private guided bike tour through Central Park.
Click here to book a group bike tour through Central Park.
5. Take in Central Park history at Belvedere Castle
Did you know that there is a castle sitting in the center of Manhattan in Central Park?
Opened in 1872, Belvedere Castle blends Gothic and Romanesque styles and offers a "beautiful view" — aka belvedere in Italian — from its first-floor balcony and tower, which is the highest point in Central Park.
Interestingly, in 1919 the New York Meteorological Observatory moved into the castle, since the structure featured a weather vane and an anemometer.
Today, however, the ornamental building serves as a visitor center.
If you're looking for top Central Park photo spots, the observation deck is one of the best photo spots in NYC and is the perfect place to take in the sweeping views of Turtle Pond, the Great Lawn, the Ramble, and the cityscape with your beau.
And whether you're planning a 4-day New York City itinerary or just a day trip, Central Park is an absolute must-visit!
---
Need help capturing the best of NYC — with you in the photos? Book one of our Private Photo Journeys, a walking tour that includes photos of your group to keep. Or get a styled, custom shoot that tells your unique story through an NYC Influencer Shoot or Professional New York City Shoot. Email [email protected] with inquiries.
---
6. Take in architectural beauty at Bethesda Terrace & Fountain
Overlooking Central Park's Lake, Bethesda Terrace and Bethesda Fountain have been around since 1873, making them a rich part of the city's history and a popular inclusion in many NYC itineraries.
In fact, the fountain was erected to celebrate the 1842 opening of the Croton Aqueduct, which brought fresh drinking water to New York City residents.
The most eye-catching part of the fountain is the neoclassical Angel of the Waters sculpture, which showcases an eight-foot bronze angel standing over four cherubim symbolizing health, purity, temperance, and peace.
There are also often musicians and performers here which adds to the ambiance.
The beauty of Bethesda Terrace & Fountain also makes it one of the park's most popular spots for photos and is a popular request on our private NYC Influencer Shoots!
7. Tour the Metropolitan Museum of Art
Talk about fun activities in NYC for couples!
The Met is one of the most romantic places in NYC for art lovers. Where else can you tour over 2 million world-famous works of art after a walk in the park?
In fact, it's the largest museum in the United States and one of the top things to do on the Upper East Side NYC!
Since the collection is so big, you'll have to plan a second date to see it all. That being said, a few recommended works that you shouldn't miss on a first-time visit include The Sphinx of Hatshepsut, "Self-Portrait in a Straw Hat" by V. Van Gogh, and "Portrait of a Woman with a Man at a Casement" by Fra Filippo Lippi.
To really ensure you get the most out of your visit, it's recommended to book a Metropolitan Museum of Art Highlights and Guided Tour.
8. Walk the flowering trails in the Shakespeare Garden
In our opinion, the Shakespeare Garden is one of the best date spots Central Park offers!
Walk the meandering paths and rustic benches of this delightful four-acre garden featuring flowers mentioned in Shakespeare's texts and plaques with the Bard's most famous quotes.
Looking for spring or summer date ideas in NYC?
The garden is lush during these seasons, making them a great time to visit, though you really can't go wrong any month of the year.
9. Stroll across the iconic Bow Bridge on a Central Park date
Bow Bridge's Victorian-era design is featured in many of Central Park's most iconic images.
The name of the bridge comes from the fact that its low curve looks like the bow of a violin.
Not surprisingly, the beautiful Bow Bridge is one of NYC's most popular spots for proposals.
Recommendation:
Walk over the bridge into the 36-acre Ramble, one of Central Park's woodlands designed to transport people to New York's Adirondack Region without needing to leave the city.
10. Bird-watch along Bank Rock Bay
This secluded location on the north end of Central Park Lake is a nature lover's paradise.
Bring a pair of binoculars, set up a picnic blanket, and watch for the over 200 species of birds that live in the park.
The Bay is especially picturesque when exploring New York City in fall thanks to the changing colors of the leaves.
Plus, since most visitors don't end up discovering this narrow inlet and it's surrounded by trees, you'll have some privacy.
11. Go ice skating at Wollman Rink
The Wollman Rink has stunning views of Central Park and the city skyline beyond it. Every winter, thousands of people come through to ice skate here.
There will likely be plenty of other people there when you go, but it's worth working your way through the crowds to take in the beauty and experience this fun, winter-exclusive activity.
---
Need help capturing the best of NYC — with you in the photos? Book one of our Private Photo Journeys, a walking tour that includes photos of your group to keep. Or get a styled, custom shoot that tells your unique story through an NYC Influencer Shoot or Professional New York City Shoot. Email [email protected] with inquiries.
---
12. Listen to the New York Philharmonic's free summer shows on the Great Lawn
Looking for summer date ideas in NYC?
Getting to stretch out on the Great Lawn and listen to the New York Philharmonic's "Concerts in the Parks" series is one of the city's best free summer activities.
While it does get crowded, this is a great idea for a romantic date without breaking the bank!
Plus, it's easy enough to find a space to set up your blanket away from other picnickers.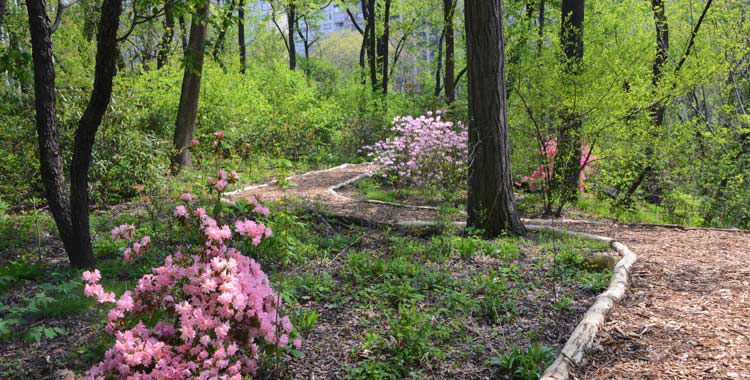 13. See the waterfall at the newly-restored Hallett Nature Sanctuary
Hands down, one of the most romantic places in Central Park is the Hallett Nature Sanctuary!
The natural wood benches and gate make this one of the most unique spots in the city.
The Sanctuary is a four-acre nature preserve located in the southeastern corner of Central Park. It was closed for 83 years to become a bird sanctuary, and it only opened again to visitors in 2016.
Pro tip:
May is one of the best times to visit as the azaleas and wildflowers are in full bloom.
Also, don't miss the waterfall just off the path on your way out!
14. Embrace the beauty of nature at the North Meadow Butterfly Gardens
Fun fact:
The north end of Central Park is home to four butterfly gardens.
In the summer, the abundance of flowers makes this a magnet for monarchs and pollinators before they fly south for the winter, which is an incredible sight to see!
15. Pay homage to musical greatness at Strawberry Fields and the Imagine Mosaic
If you and your boo are music lovers, you absolutely must visit this world-famous site.
Strawberry Fields is a 2.5-acre landscaped section of Central Park dedicated to Beatles musician John Lennon, who was sadly murdered in 1980 outside of his Dakota apartment, which is located next to this site.
People often place flowers on the ground as a tribute to him, and you can gather around the Imagine Mosaic to hear musicians playing his songs.
16. Host a game night at the historic Chess & Checkers House
This one is for couples wanting a date night with some healthy competition!
Host an al fresco game night under the wooden trellises, where you can challenge your partner to chess, checkers, Scrabble, and more at the 24 game tables set up for visitors.
The Chess & Checkers House was built in 1952, so you'll also be taking part in a long-standing New York tradition.
This is a popular spot for families, so it's perfect if you're bringing the kiddos along.
17. Enjoy a scenic picnic at Central Park's peaceful Turtle Pond
Take your loved one here in the summer and you're sure to see turtles resting along the shore, along with birds, insects, fish, and other wildlife.
Another highlight:
The view of Belvedere Castle sitting grandly atop Vista Rock across the water!
As one of Central Park's designated quiet zones, this is the perfect place to plan a relaxing date and one of the most romantic places in Central Park.
18. View the spectacular floral displays in the Conservatory Garden
You won't miss the front entrance, marked by the ornate Vanderbilt Gate in homage to an earlier time in New York history.
The English section of the Conservatory Garden is known for having flowering garden beds year-round, while the Wisteria Pergola and the intricately carved Untermyer Fountain are must-sees in the Italianate section.
This is one of the most commonly photographed natural spaces in the park.
19. Have a photoshoot during the blooming of the Yoshino Cherry Blossom Trees
Couples visiting NYC in spring won't want to miss this magical experience.
For a little background, the cherry blossoms were given to the US as a gift from Japan in 1912. Over 100 years later, they're still adding a burst of romance to Central Park.
The best spot to see the roughly 150 cherry blossom trees still in Central Park is between 72nd Street and 96th Street on the east side of the Reservoir.
Make sure you plan your date around when they're in bloom, because it only lasts for about one week annually.
Better yet, book a private NYC photoshoot with our team to snag professional photos of your day in Central Park to keep!
---
Need help capturing the best of NYC — with you in the photos? Book one of our Private Photo Journeys, a walking tour that includes photos of your group to keep. Or get a styled, custom shoot that tells your unique story through an NYC Influencer Shoot or Professional New York City Shoot. Email [email protected] with inquiries.
---
20. Explore the secret history of the Ramble Cave
Woo your date with your knowledge of the secrets of Central Park by showing them the Ramble Cave!
Most people have walked the Ramble before, but few know the history behind it.
The Ramble used to be a popular hangout spot, but when people started getting too rowdy there, the cave was closed for good. Look out for the stone staircase to catch a glimpse of the bricked-up entrance.
By the way, while we're on the subject of secrets, we recommend booking a Central Park Secrets & Highlights tour to have an experience you wouldn't be able to on your own!
21. Go bouldering at Umpire Rock
This one is for the couples that love adventure!
Umpire Rock is one of the most popular spots for bouldering in the park, making it the perfect date spot for outdoorsy couples looking for a place to climb.
Romantic NYC Hotels
After enjoying romance in Central Park, retreat to one of NYC's most romantic hotels, like:
Crosby Street Hotel. This boutique SoHo hotel blends luxury with creativity. You'll find endless opportunities to take photos in the rooms and common spaces thanks to the carefully curated art and design pieces — not to mention a sculpture garden. Plus, their onsite restaurant and bar serves beautifully-plated food and expertly crafted drinks.The High Line Hotel. This stylish landmark hotel resides on the very grounds where Clement Clark Moore wrote "Twas the Night Before Christmas." The vibe is 19th century with numerous original touches, including stunning stained-glass windows. Opt for in-room views of either the High Line or the hotel garden.The William Vale. This hip Williamsburg property features onsite Italian eatery, stunning gym, and seasonal pool. It's also home to one of our favorite New York City rooftops, Westlight, which offers a true 360-degree view and delicious craft cocktails.Click here for a full list of romantic NYC hotels.Or, if you'd like to get out of the city, here are some of the most romantic weekend getaways in Upstate NY!
Romantic Central Park Tours
Some of the best Central Park tours for couples include:
What would you add to this Central Park for couples guide?
Related Posts
The following two tabs change content below.
Latest posts by Elizabeth Rotonda (see all)